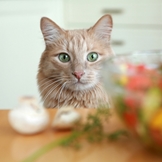 In response to my Can Cats be Vegetarians post, Ludmila Marshal commented that a study published in 2006 came to different conclusions than the one I referenced questioning the nutritional adequacy of vegan cat foods.
The study Ms. Marshal is talking about is entitled « Evaluation of cats fed vegetarian diets and attitudes of their caregivers. » You can take a look at the abstract on the American Veterinary Medical Association (AVMA) website. I do not believe that this paper is in conflict with the 2004 article that I previously referenced.
The scientists looked at only the cobalamin (vitamin B12) and taurine status of cats fed vegetarian foods. Results showed that all of the cats had normal serum cobalamin concentrations, and 14 of 17 had blood taurine concentrations within reference range. The cobalamin findings are reassuring, but almost 18 percent of the vegetarian cats « had blood taurine concentrations between the reference range and the critical concentration, suggesting that their dietary intake was marginal, but that they were not clinically deficient. » I hardly see this as a ringing endorsement for a vegetarian diet being able to provide optimum nutrition for cats.
In praise of this paper's findings, a veterinarian wrote a letter to the editor that appeared in a subsequent issue of JAVMA. The letter concluded, « It is reassuring to know that I can recommend a meat-free diet to those clients who want to eliminate the link between their cat and the slaughterhouse. » The authors of the original article felt compelled to respond in this way:
We would like to point out that although it was encouraging that none of the cats tested in this investigation had taurine or vitamin B12 deficiency, we feel that given the limited scope of the study and the self-selection of the population, our findings should be interpreted with caution. We recommend that people who wish to feed vegetarian diets to their cats be counseled about the potential risks and the need to use a properly formulated recipe or commercial food. We also recommend follow-up contact of those owners with their veterinarians at least twice a year to monitor proper recipe use and examine their cats for signs of nutrient deficiency or excess.
That's good advice. This study found that 82 percent of owners who chose a vegetarian diet for their cats cited ethical considerations as their reason for doing so. I certainly understand how people who are vegetarians themselves have issues with feeding their cats meat. However, deciding to make your cat a vegetarian adds an extra level of responsibility to ensure that your beliefs don't adversely affected the well-being of the animal under your care.

Dr. Jennifer Coates
Today's post was originally published in September 2012.
Sources:
Evaluation of cats fed vegetarian diets and attitudes of their caregivers. Wakefield LA, Shofer FS, Michel KE. J Am Vet Med Assoc. 2006 Jul 1;229(1):70-3.
(2006) Letter to the Editor. Journal of the American Veterinary Medical Association 229:4, 498-498. Online publication date: 1-Aug-2006
Image: ArtKolo / Shutterstock