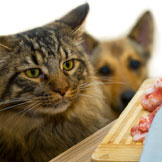 I really should listen to my own advice.
How many times have we talked here about the importance of reading ingredient lists when purchasing cat food? I've lost count, so I'm embarrassed to admit that this lesson was once again driven home for me just last week.
My cat, Victoria, is in the "spoil her rotten" stage of life. She is elderly and has heart disease. Frankly, she's doing fabulously well, but I also wouldn't be surprised if I walked downstairs one morning to discover that she had passed away suddenly overnight. Vicky has always been a skinny little thing and she is having even more trouble maintaining her weight as she ages. When it comes to picking out foods for her now, I'll pretty much give her anything that she eats with gusto.
I've found that she'll eat more when the canned portion of her diet provides her with some variety. Shopping for cat food has become a bit like moving through the line at a buffet. I tend to grab a can of this, two cans of that, and then move to the next aisle and continue "grazing." We've got our old standbys, but I also try to find something new to put into the rotation.
The kids often come along with me to our local pet supply store, so in all honesty I can't spend a lot of time reading labels on 12 different varieties of cat food. Last week, however, I was running errands without the kids and decided to practice what I preach. The first can I picked up was one I've been buying for months and is a favorite of Vicky's. Still, I peeked at the ingredient list. It was as I remembered:
Ocean fish, fish broth, shrimp, calcium phosphate, vegetable oil, guar gum, Vitamin E supplement, Vitamin A supplement, sodium nitrite (to promote color retention), zinc sulfate, thiamine mononitrate, manganese sulfate, menadione sodium bisulfite complex (source of Vitamin K activity), riboflavin supplement, folic acid, pyridoxine hydrochloride, Vitamin D-3 supplement
I picked out this food a while back because it has protein sources as its first and third ingredients (remember ingredients are listed in descending order based on their predominance by weight in the food) and it contains no carbohydrates. It's therefore a nice balance to the dry food Vicky likes to nibble on. The ingredient list is also pretty simple, being made up almost entirely of proteins, fats, vitamins, and minerals.
Here comes the embarrassing part of my story. Being crunched for time, I had just assumed that the other varieties of canned cat food from this manufacturer's line would be fairly similar and hadn't bothered to read the ingredient lists on the other "flavors" I bought. When I finally got around to looking, however, this is what I found on the can sitting on the shelf right next to the one mentioned above:
Poultry broth, chicken, liver, wheat gluten, meat by-products, turkey, corn starch-modified, artificial and natural flavors, soy flour, salt, calcium phosphate, added color, potassium chloride, natural grilled chicken flavor, taurine, choline chloride, magnesium sulfate, thiamine mononitrate, Vitamin E supplement, zinc sulfate, ferrous sulfate, niacin, calcium pantothenate, Vitamin A supplement, copper sulfate, menadione sodium bisulfite complex (source of Vitamin K activity), manganese sulfate, pyridoxine hydrochloride, riboflavin supplement, Vitamin B-12 supplement, biotin, folic acid, Vitamin D-3 supplement, potassium iodide.
Not the same at all, is it? No more shortcuts for me. From now on, I won't buy a new food until I can find the time to look over the ingredient list.

Dr. Jennifer Coates
Image: Yurochka Yulia / Shutterstock