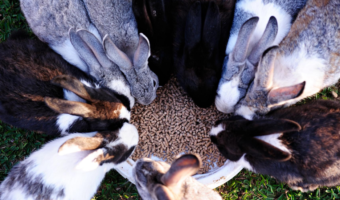 Ensuring you feed your rabbit the right kind of food is one of the most important responsibilities as a bunny owner. Food gives them the nutrients they need to stay healthy, while also helping to grind down their teeth and promote good digestion.
But picking the best rabbit food when there are so many different types out there can seem like a daunting task! Fortunately, we've complied a guide below that shows you everything you need to know about feeding your rabbit, and we've even included some of our top picks for you to choose from.
Types Of Rabbit Food
A rabbit needs a combination of a few different foods to stay healthy. Experts recommend that a rabbit diet should be largely hay based, with some fresh vegetables every morning and a small amount of pellets. This diet will help to keep health problems at bay.
Hay
Hay should make up at least 80 to 90 percent of your rabbit's diet. You should aim to feed them an amount that is the same size as their body size every day, and it should always be fresh and available to them. There are different types of hay such as timothy hay, orchard grass, alfalfa and oat hay. Chewing on hay helps to grind down your rabbit's teeth, which in turn helps to reduce the risk of dental issues.
Vegetables
Just like humans, rabbits need their daily dose of fresh vegetables! These should be leafy green vegetables, such as cabbage, cauliflower leaves, radish, rocket, kale, lettuce, spinach, broccoli and Brussel sprouts.
Pellets
Pellets should only be fed to your rabbit in moderation. Some owners even choose not to feed their bunnies pellets, sticking to a vegetable and hay diet. However, we recommend pellets because of the extra nutrients they provide.
You should aim for at least twenty five grams of pellets for every kilogram of your rabbit's weight. Some owners recommend staying away from muesli based pellet foods, as rabbit's have a tendency to pick out the sugary and less healthy bits! There are three main types of pellet foods, which we go into more detail about later on.
Treats
You can feed your rabbit treats now and again. This shouldn't be every day as rabbits can easily gain weight. Treats can either be in the form of chewable bars and snacks that can be bought at pet store, or can even be fresh fruits. Fresh fruits naturally have a lot of sugar in them so this is why they should only be fed occasionally. Unfortunately, carrots should also be considered a treat!
Things To Consider Before Buying Rabbit Food
There are a few things you should take into consideration before purchasing the best rabbit food:
Age
The needs of your rabbit change with their age. A bunny who is a few months old is going to have different nutritional requirements to an eight year old rabbit. The type of food you feed them should be formulated for their life stage — this is almost always labelled on the food packet to help you.
Health
If your rabbit has a health condition, you may need to feed them a special diet. This can also be if your rabbit is pregnant, underweight or overweight. There are pellets that are formulated to meet their needs.
Type
There are three main types of rabbit pellets — fruits, vegetables and hay. A fruit based food contains fruits such as apples, peaches, cherries and pears, which have a lot of vitamins but can be very sugary.
A vegetable based food contains ingredients such as carrots, broccoli, green leaves and basil. This food can be healthier than a fruit based food, but not as healthy as a hay based food. Hay based foods are most common, particularly formulated with timothy hay and alfalfa. Hay has a lot of fiber which is great for a rabbit's digestive system.
The Best Rabbit Food — Reviewed
Pellets
Below are our favorite pellet based foods for your rabbit. These should be fed alongside fresh hay and vegetables in a controlled amount. While muesli/blended foods are often not recommended, they are fine in moderation but you should watch for selective feeding and stick to a pellet based diet if your rabbit has a tendency to pick out the best bits!
1) Kaytee Forti-Diet Pro Health Rabbit Food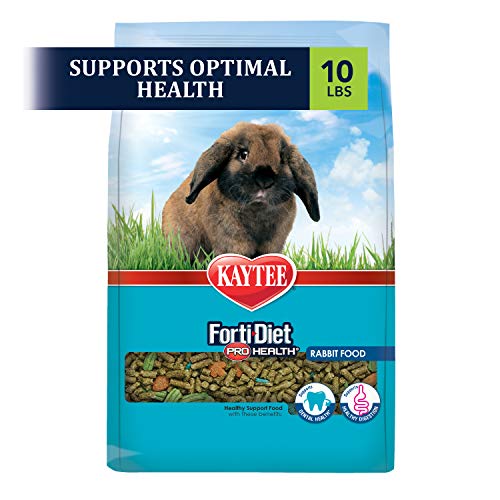 The Kaytee Forti-Diet rabbit food is designed for adult rabbits and is a great addition to a largely hay and vegetable diet. This food contains prebiotics and probiotics to support digestive health as well as being rich in natural antioxidants for general health and immune system support. These pellets are also larger in size to support dental health through natural chewing activity.
Made in the USA, this food is 100% safe for your rabbit and is naturally preserved for ideal freshness. Some rabbit owners have reported their bunny picking out certain parts of this food and leaving others, so this is something to watch out for.
2) Kaytee Fiesta Rabbit Food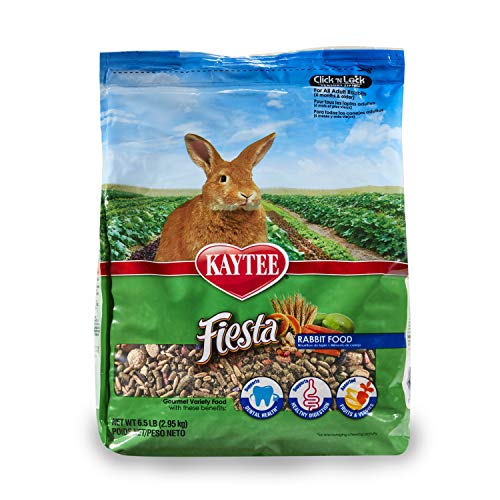 The Kaytee Fiesta rabbit food is a nutritionally fortified diet made of a premium blend of fruits, vegetables, seeds and grains. This food contains prebiotics and probiotics to support digestive health and the rich ingredients list gives your rabbit variety. Again, owners have reported their rabbit cherry-picking the "best" (tastiest!) parts of this food out, so this is something to watch out for!
With larger kibble pieces, these pellets help to promote your rabbit's dental health as they chew. This food also contains antioxidants for immune system support and, being made in the USA, you can ensure this food is safe for your bun.
3) Oxbow Animal Health Essentials Adult Rabbit Food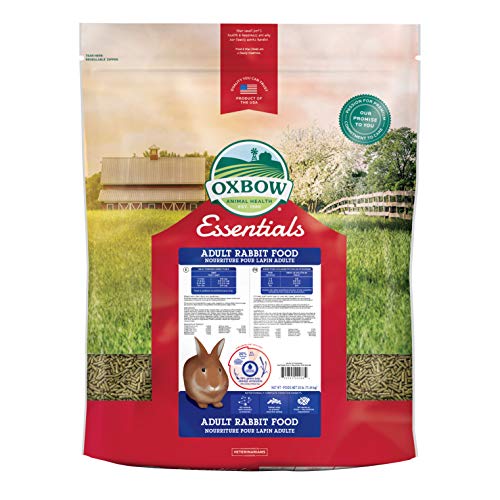 Formulated for adult rabbits, the Oxbow Animal Health Essentials food is a pellet only diet rather than a muesli diet to help prevent selective eating. This food is timothy hay based, providing essential fiber and nutrients to keep them healthy. There are also antioxidants that help to keep your bun performing at their best, and prebiotics provide food for the good bacteria in your pet's GI tract. There are no seeds or fruits in this food as well as no refined sugars or artificial ingredients that your rabbit wouldn't encounter in the wild.
4) Wild Harvest Advanced Nutrition Diet For Rabbits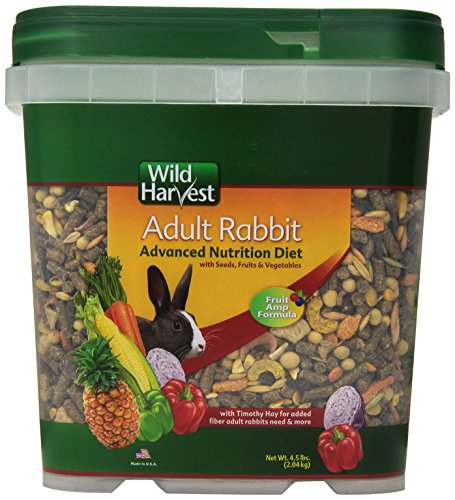 Largely fruit and vegetables based, the Wild Harvest Advanced Nutrition Diet provides your rabbit with adequate energy levels to stay healthy as well as vitamins and minerals for healthy growth. The main fruits and vegetables here are carrots, split peas, pineapple, celery, peppers and cabbage, so you should certainly watch out for selective feeding. This food also contains timothy hay for added fiber that assists with maintaining a healthy digestive tract. Alfalfa and soybean provides protein and useful fats for a healthy skin and coat, too. Fortified with antioxidant nutrients, this Wild Harvest food provides your adult rabbit with even more added nutrition to help support and maintain overall good health.
5) Sherwood Pet Health Adult Rabbit Food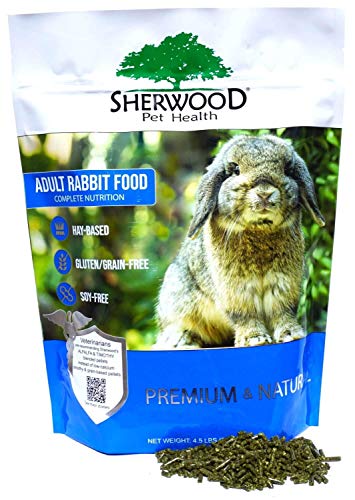 The Sherwood Pet Health rabbit food is designed for adult rabbits and is hay based, helping you improve your pets digestive health by supporting the growth of healthy microflora. With no grain or soy, this food is ideal to promote urinary health too and the ingredients are all natural, ensuring your rabbit isn't eating anything they shouldn't be. A pellet food, there is no chance of selective feeding, and the vitamins, minerals and amino acids all add to a balanced and complete diet. There are also essential omega-3 and omega-6 fatty acids for a healthy skin and coat.
6) Small Pet Select Rabbit Food Pellets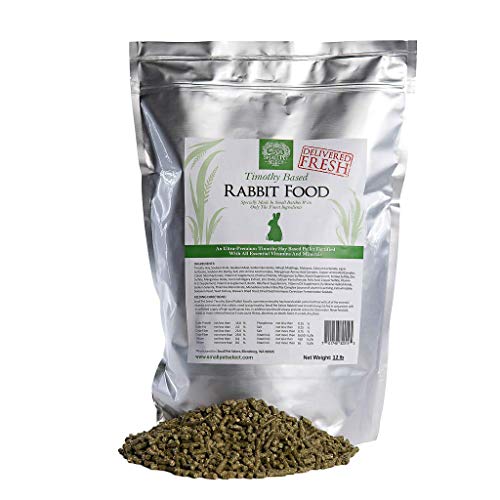 These pellets from Small Pet Select provide your rabbit with a high fiber, timothy hay based food that is fortified with all essential vitamins and minerals your rabbit needs to thrive. Another pellet food, your rabbit won't be able to selective feed and will only be eating natural ingredients that will help them stay healthy. Being timothy based, this food is high in fiber and low in calories and calcium, and the hay is completely fresh — being only from the current crop year. Milled in small batches and only available online to ensure freshness, this food is 100% made in the USA and only contains quality ingredients.
7) Sunseed Company Vita Sunscription Timothy Pet Rabbit Food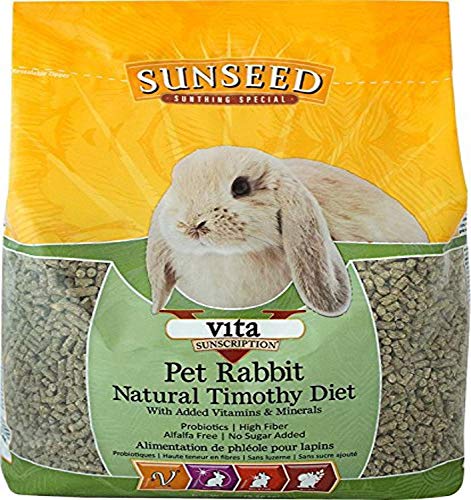 This rabbit food from Sunseed Company is a timothy hay based diet that provides a nutritional and balanced food for young to adult bunnies. Pellet based, so no chance of your rabbit picking out the best bits, this food is fortified with vitamins and minerals to keep them healthy and active. The timothy hay provides high fiber for better digestion and there is also beneficial bacteria that works probiotically. Ingredients include carrots, potatoes, parsley, celery and red bell peppers to keep your rabbit interested and there is no alfalfa or added sugar in this recipe.
8) Sunseed Vita Prima Sunscription Young Rabbit Formula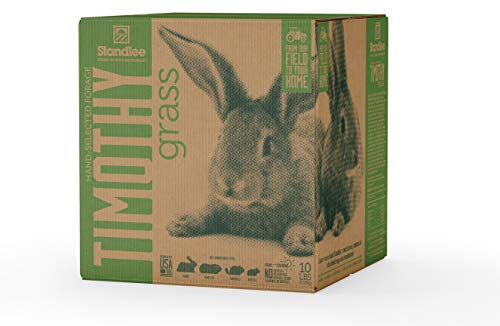 This food is formulated for young rabbits under the age of 1 year. A muesli style food, your rabbit can have a tendency to selective feed, so watch out for this. However, this young rabbit food is nutritionally balanced and has high fiber to ensure healthy growth as they move into their adult years. There are added vitamins A, D and E as well as calcium to promote healthy bones and joints and omega-3 fatty acids and probiotics ensure healthy digestion. Made in America, you can also be sure all the ingredients are safe for your young bun.
9) Manna Pro Small World Rabbit Feed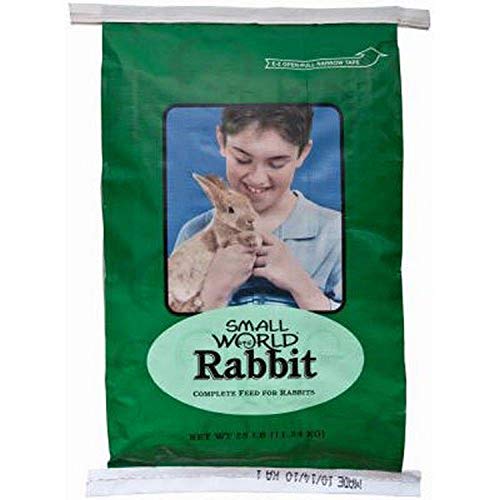 The Small World bunny food from Manna Pro is a pellet only diet that provides complete and balanced nutrition for all rabbits. This food is wheat middlings, alfalfa and soybean based with added vitamins and minerals to support your bun's overall health. The firm and durable pellets promote healthy chewing as well as helping to grind down your rabbit's teeth, and the high fiber content of this food ensures proper and consistent digestion. Even better, this food is free of corn and so if perfect if your bunny has certain sensitivities.
10) Supreme Pet Foods Russel Rabbit Food
Formulated for adult rabbits, this Russel Rabbit food from Supreme Pet Foods is a nutritionally balanced and tasty mix for your bunny. While this mix does promote natural foraging, you should watch out for selective feeding. This food has a timothy hay base to provide an excellent source of fiber for optimal digestive health and there is no added sugar or unnatural ingredients. Alfafa is also included for fiber and there is calcium for your bunny's bones and teeth. Vegetables included provide the necessary protein, vitamins and minerals your bun needs to stay healthy.
11) Science Selective Rabbit Food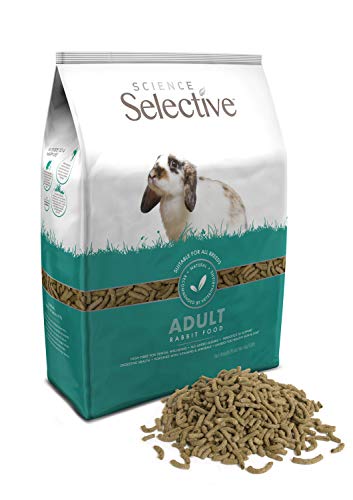 This rabbit food from Science Selective is a pellet based food and will ensure no selective feeding. Suitable for all breeds of adult rabbit, this food is 100% natural and will help to keep your rabbit healthy. High in fiber for dental wellbeing, these pellets also contain prebiotics to support digestive health and are fortified with vitamins and minerals. There is also linseed included for healthy skin and a healthy coat. With no added sugars, you can be sure your rabbit is getting a complete and balanced diet. Even better, there is a junior and a 4+ years version of this food, so you keep them healthy no matter their age.
12) Kaytee Food from the Wild Rabbit Food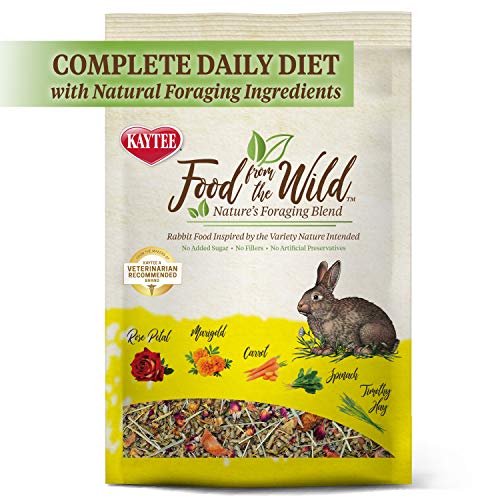 Another food from Kaytee, this Food from the Wild is a diet that is inspired by your rabbit's ancestral feeding habits. Containing rose petal, marigold, carrot, spinach and timothy hay, this food is formulated only with ingredients that your bun would find in the wild, making it 100% natural and healthy. There is no added sugar, fillers or preservatives in this food and the pelleted pieces offer comprehensive nutrition and contain natural probiotics to support digestive health. This food is perfect for any rabbit over the age of six months.
Hay
Below are three popular hay choices for your rabbit. Hay should take up at least 80% of your rabbit's diet.
1) Standlee Premium Western Forage Timothy Grass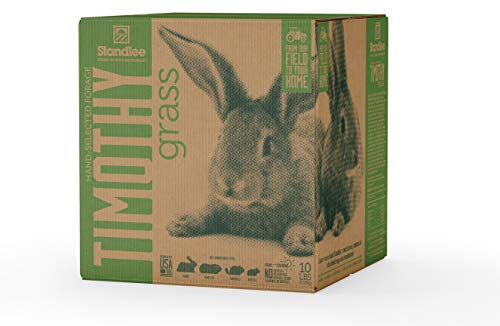 This timothy grass from Standlee Hay Company is an all natural and additive-free hay that provides your rabbit with an excellent source of fiber and is naturally low in protein. The long stem fibers of this grass encourage the natural foraging instincts of your rabbit and helps to stimulate chewing, promoting digestive and dental health. Perfect for all life stages, this food is also great for guinea pigs, hamsters, gerbils and chinchillas!
2) Kaytee Timothy Hay Blend Cubes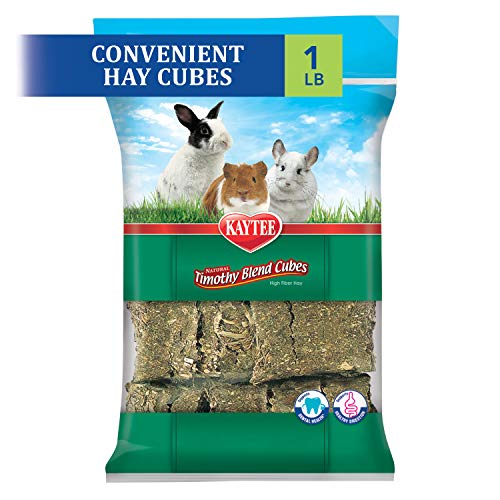 These hay cubes from Kaytee blend sun-cured timothy hay and sun-cured alfalfa hay together to provide added nutritional variety. While these cubes should be fed more of as a treat and shouldn't replace hay in your rabbit's diet, they are very high in fiber and will help to aid digestion. They're also low in protein and calcium helps to support urinary health. The compressed blocks give your rabbit something to sink their teeth into too, aiding dental health and helping to wear their teeth down. All natural, these contain no artificial colors or preservatives and the hay is grown in the USA.
3) Small Pet Select Timothy Hay Pet Food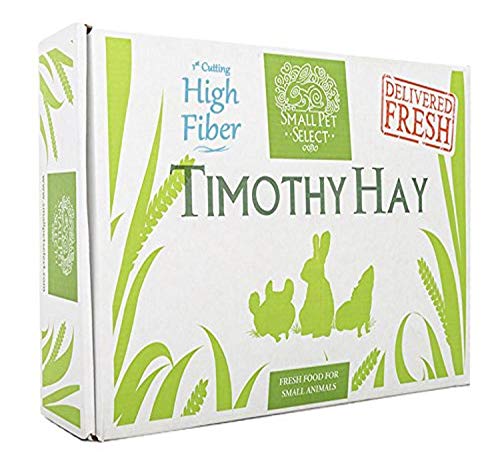 This timothy hay from Small Pet Select is taken from the first cuttings of grass, providing a higher fiber hay with more flower heads. Still soft and leafy, this hay helps to promote healthy digestion and aid overall growth within your rabbit. Small Pet Select provide a high-quality and completely natural hay that is from the current crop year and therefore very fresh. Grown in the USA, the small batches of this food help to ensure the quality and nutritional value. So, while this hay is more expensive than many others, you can be sure your rabbit is eating only the best!
4) Oxbow Animal Health Western Timothy Hay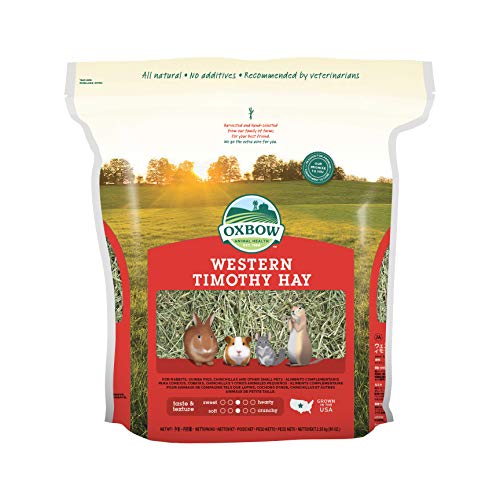 Grown in the USA, this timothy hay from Oxbow Animal Health is high in fiber for a healthy digestive system. Both flavorful and firm, this hay helps to promote dental health and the sweet smell of this hay will encourage consumption. 100% natural and with no additives, this hay harvested fresh from farms for optimum quality and is hand-sorted and hand-packed with care so you can be sure your rabbit is getting only nutritional food.
Treats
Below are some popular treats that rabbits love! Remember, you should always feed your rabbit these in moderation. Rabbits can be very prone to gaining weight!
1) Oxbow Animal Health Simple Rewards Timothy Treats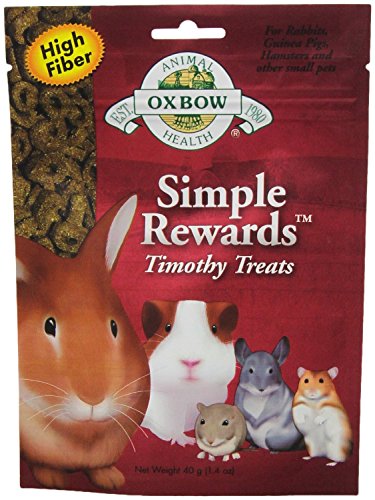 The Oxbow Animal Health Timothy Treats are made with 100% fiber-rich timothy grass hay, that offers the fresh timothy flavor and aroma animals love. The natural ingredients of these treats means they are safe for all rabbits and the fiber in this snack also helps to promote healthy digestion. A great way to bond with your furry friend, there are no artificial colors or preservatives and so you can be sure this is a healthy snack!
2) Vitakraft Rabbit Crunch Sticks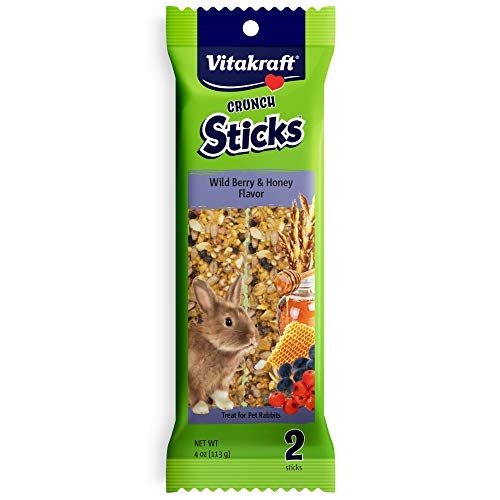 These Vitakraft Rabbit Crunch Sticks are made with berries and whole grains that your rabbit will love to nibble on! Made with only top-quality ingredients, these crunch sticks also contain vitamins and minerals and there is a natural wood chew inside for long lasting chewing fun. Triple baked, these crunchy treats promote healthy chewing for your rabbit and will keep them going for hours! These treats have a clip holder so you can easily attach them to your rabbit's hutch or cage.
3) Wild Harvest Bake Shop Pretzel Treats For Small Animals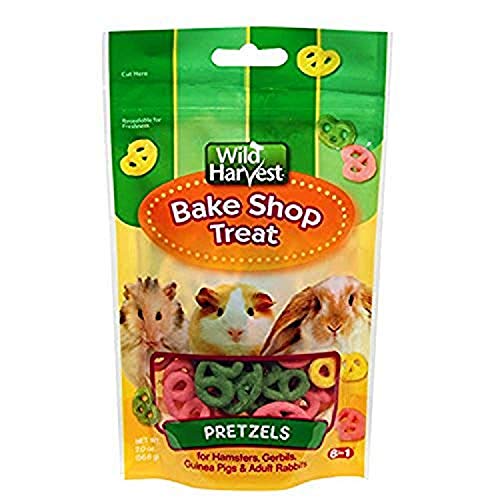 Made for hamsters, gerbils, guinea pigs and adult rabbits, these pretzel treats from Wild Harvest Bake Shop are a tasty and fun treat! The unique shape allows small animals the ability to interact and play with the snack and the crunchy texture helps to promote your rabbit's natural foraging instinct while stimulating their desire to chew. Even better, they come in a reusable bag for long-lasting freshness.
Rabbit Food FAQ's
What foods are harmful to rabbits?
There are a number of foods that are harmful to rabbits. While they can eat a lot of human foods, these are plant-based foods such as fruits and vegetables and many human foods a rabbit cannot digest. These include meat, peanut butter, chocolate, bread, onions, almonds, apple seeds, chips and any artificial colors, flavors or preservatives.
Does my rabbit need hay?
Yes! Hay is the most important part of your rabbit's diet. It helps to keep their digestive system moving, and also helps to grind down their teeth as they chew. Your rabbit's diet should be largely hay before anything else.
What is the difference between bedding hay and feeding hay?
Although they are both hay, bedding hay and feeding hay are very different. Feeding hay is fresher and more green than bedding hay, as well as tasting better (to rabbits!) and having a lot more nutrients. Bedding hay can be dry which is great for your bunny to snuggle into, but not so great to eat.
Summary
Feeding your rabbit the best rabbit food is very important to ensure they stay healthy and live a long and happy life. Their diet should consist largely of hay, with some pellets and fresh vegetables thrown in. Finding the right pellets for your rabbit can seem like a daunting task, but pay attention to their age and their health status and choose a food that meets all their nutritional requirements. Remember not to feed your rabbit too many treats and fresh hay and water should always be available to them.