ADVERTISEMENT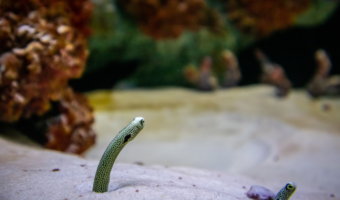 If you're planning on keeping fish, you'll know that before you bring them home, you'll need to have everything ready for them. This includes the right tank, the right plants, the right decorations and accessories and the right substrate. Substrate for fish tanks comes in two main forms — gravel and sand.
In this article, we're going to explore all the benefits of aquarium sand as a substrate and why you should (or shouldn't!) pick it, the different types of sand and what you should be looking for. We have even included some of our top picks of the best fish tank sand out there on the market today.
So, if you're a new fish owner and are looking for the right substrate, keep reading on below to find out more about the best aquarium sand.
Why Should I Use Sand In My Fish Tank?
Sand is beneficial to a fish tank for many reasons. First of all, sand is much more of a natural substrate for fish and aquatic plants. With many of these fish coming from naturally lower water flow environments, sand is a lot better for them and mimics how they would live in the wild. Some breeds of fish also dig through the sand and hide, so again this gives them a more natural environment.
The best aquarium sand is also one of the cleaner substrates because it is more tightly packed and old food, dirt and debris will not will not build up so quickly. Gravel and other substrates have gaps between the pieces, where this dirt can fall and then accumulate. With sand and a high enough water flow, the tank can be kept much cleaner.
Gravel vs. Sand
The gravel vs. sand debate often depends on what type of fish you are keeping and what type of tank you have. Sand is packed more closely than gravel and therefore doesn't need cleaning as much, and food particles are less likely to get trapped underneath like they do in gravel tanks. Sand also provides a more natural environment for your fish, too.
However, fish tank gravel does have some benefits over sand. It has much bigger pieces than sand, so the water can flow easily and less bad bacteria will build up.
In general, freshwater tanks should have gravel substrate and saltwater tanks should have sand substrate. Certain fish, such as goldfish, can become sick if they eat sand so they will need gravel, but other types, such as cichlids, actually should eat a bit of sand. Some plants also need sand for their roots, while others need gravel.
The Different Types Of Fish Tank Sand
There are different types of aquarium sand for you to choose from with different colors, varieties and styles. The type of sand you choose should be based on the type of fish and plant life you are keeping in your tank. Read on below to find out about these different types.
Play Sand
This is the cheapest type of aquarium sand. It comes in different grain sizes and colors and can be bought in most places. This sand is safe for your tank, but may not be as beneficial as other types of sand. You will have to make sure that the sand you buy is cleaned properly before using, too, so it doesn't harm your fish.
Silica Pool Sand
This sand is designed from silica to use in swimming pools. It comes in lots of different colors and grain sizes.
Blasting Sand
Blasting sand is similar to play sand, but is more consistent in size and color. It is also cheap just like play sand, and adds a natural feel to the aquarium.
Specialized Aquarium Sand
Specialized aquarium sand can be harder to find and much more expensive that other types of sand, but it is one of the better options and give much higher-quality sand for your fish and plant life.
Live Sand
This is the best type of fish tank sand you can buy. It arrives "wet" with water and provides living beneficial bacteria that helps improve the health of your aquarium. This sand is especially good if you are moving your fish to a new tank, because it already has beneficial things living in it to make the transition easier.
Factors To Consider When Choosing Aquarium Sand
There are a few different thing to consider when choosing the sand for your fish tank. You want to ensure you are buying the right sand that will keep the organisms in your tank happy and healthy.
Type Of Aquarium
The type of aquarium you have with affect what type of sand you choose for your tank. If you are just keeping fish, you should look for finer sand. If you have a marine or reef tank, you'll want to provide some live fish tank sand to start with, to help the beneficial bacteria colonies. For a planted aquarium, you should use a nutrient rich sand and then a layer of either large particle sand or gravel so your plants can ground their roots.
Fish Breed
Just like the type of tank you keep, the type of fish you keep will also influence the type of substrate you need. As we mentioned above, fish like goldfish can become sick if they eat sand and will therefore need gravel, whereas others need to eat a little sand and will benefit from sand substrate. There are also some fish who like to burrow and will therefore need sand to do this.
Quality
Always make sure that the fish tank sand you choose is safe, fully treated and clean. If it isn't, then your fish can become sick.
Particle Size
Smaller particles are great for keeping the tank clean, but larger particles have their benefits too. If you are keeping plants, they will need to be able to plant their roots between the larger particles. Again, the particle size depends on the type of fish and other plants you are keeping in the tank.
Sand Color
The color of the fish tank sand you choose doesn't matter too much, however there are some instances where fish will prefer a certain color. For example, some fish breeds, such as flounder and cuttlefish, like to hide at the bottom of the tank in the sand and will therefore want a sand that they can camouflage themselves in.
For other fish, you can pick any color of sand you want! There are a variety of colors out there available. The only thing to avoid is any unnatural colors which may have been dyed. These can cause health issues within your fish.
If you're ready to find the right sand for your fish tank, take a look at the best aquarium sand we recommend below. These are all available to you on Amazon.
The Best Aquarium Sand — Reviewed
1) Este Stoney River Black Sand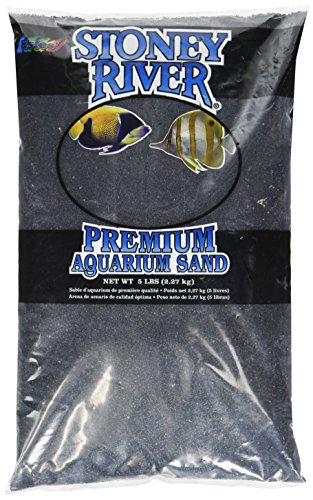 Estes Stoney River Premium Aquarium Sand is a colored, pH neutral and non-toxic sand, making this an ideal sand for all marine and freshwater tanks. The substrate is easy to keep clean and is therefore very low-maintenance. This fine sand anchors down plants and creates a healthy environment for them to grow in and for fish to thrive in. The black color helps to make it stand out, perfect if you want a fish tank that really pops and a sand that differs from the traditional "sand" color.
2) CaribSea Aquatics Eco-Complete African Cichlid Zack Sand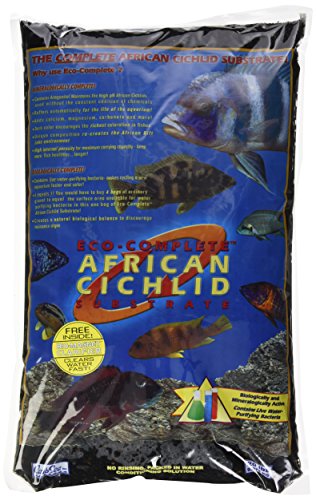 This live sand from CaribSea is specifically designed for cichlid tanks and maintains the high pH that African cichlids need. It also helps to resist pH drops associated with cichlid systems, helping to keep your fish happier for longer. The high internal porosity of this sand maximizes biological capacity, which keeps your fish healthier, too. The sand buffers automatically and adds calcium, magnesium, carbonate and more to the water, and the unique composition recreates the African Rift Lake environment.
3) Nature's Ocean Bio-Activ Live Aragonite Reef Sand for Aquarium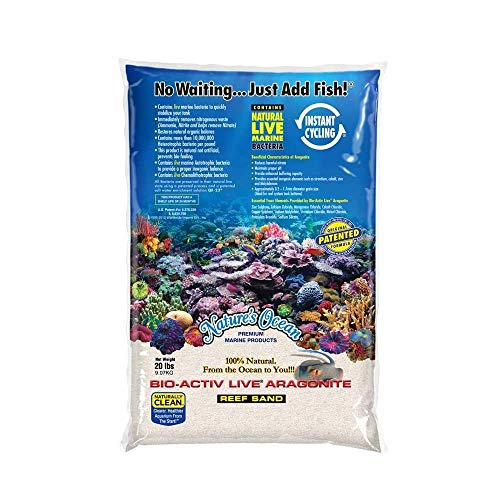 Another live sand, this sand from Nature's Ocean is collected in its natural environment and packaged in its natural state. With live bacteria to quickly help stabilize the fish tank, this substrate removes nitrogenous waste and restores natural organic balance. Helping to maintain a proper pH, this sand also provides an enhanced buffering capacity as well as essential elements such as cobalt and zinc that help to keep your fish healthy. With no waiting required, you can add your fish to the water straight after the sand.
4) CaribSea ACS05840 Super Naturals Crystal River Sand for Aquarium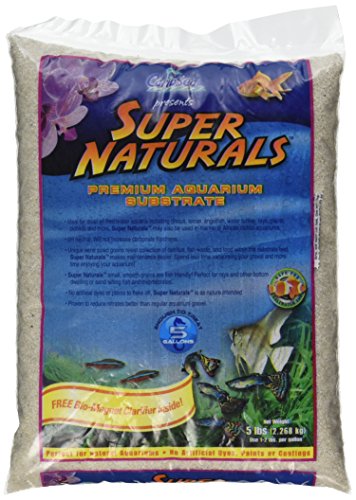 This natural colored sand from CaribSea is ideal for almost all freshwater aquariums and is pH neutral. The unique sand particle size help to resist the collection of dirt and debris such as fish waste and food, which makes maintenance a lot easier! The small size of the particles also make this sand safe for bottom dwelling fish and there are no artificial dyes or paints that may flake off and cause harm. Even better, this sand is proven to reduce nitrates better than other regular aquarium substrate.
5) Royal Ram Natural White Sand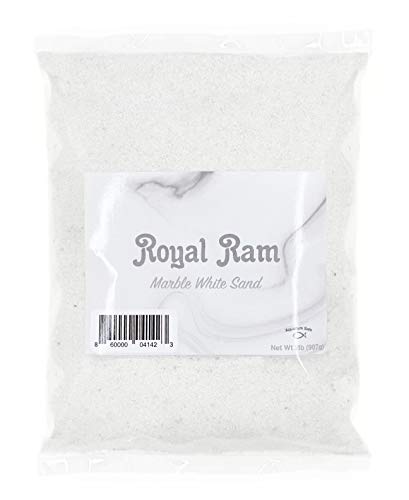 This sand from Royal Ram is 100% natural white marble sand that is naturally crushed and not coated with any color. With a medium grain size, this sand is great for certain fish and will allow your aquatic plants to properly root themselves at the bottom of the tank. Some reviewers have mentioned the need to clean this sand throughly before using it in the tank, so this is something to watch out for. You want to make sure it is properly cleaned so it is safe for your pets! The white color really stands out and makes for an aesthetically pleasing tank, too.
6) Este Stoney River White Aquatic Sand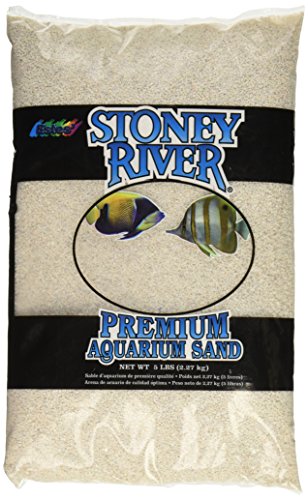 Another sand from Este, this white aquatic sand is another colored, pH neutral and non-toxic sand. Just like the Este black sand, this white sand is great for all marine and freshwater tanks and helps to keep the tank clean. With low-maintenance needs, this sand won't make life difficult and is completely safe for your pets and plants. It also helps to anchor down the roots of any aquatic plants, so they can grow healthy and strong. The bright white color of this sand certainly make is very pretty, allowing your fish tank to stand out.
7) Onyx Sand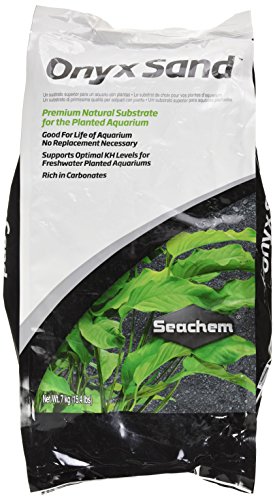 This Onyx Sand is a fracted porous substrate for aquariums and is suitable for most marines and freshwater enviroments, including reef and planted aquariums. This sand supports optimum KH levels and does not need to be replaced. While it is most effective when used alone, this sand can be used in conjunction with other sand and gravels to create an optimum environment for your fish to live in. While this sand is not chemically coated or treated, it does have a slight buffering capacity which may raise pH by 0.1 – 0.5 pH units. The black color also helps it to stand out and makes the tank look cool!
8) CaribSea Arag-Alive Fiji Pink Sand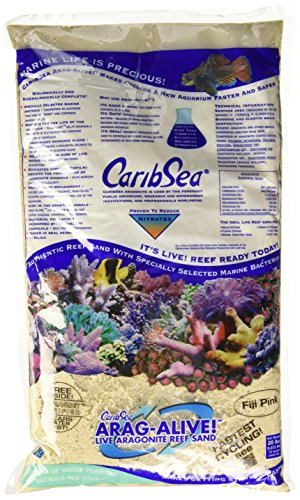 This Fiji pink sand from CaribSea has a small grain size and helps to recreate a marine environment for your fish. A live sand, this sand contains a lot of beneficial bacteria to keep your fish and plants healthy and also helps with biological filtration. It helps to maintain the correct pH of the water and therefore discourages the growth of algae. Helping to reduce the amount of waste, this sand is designed to be cycled quickly around your tank, keeping your fish and plants in a safe and sanitary environment. Even better, the pink color looks great at the bottom of the tank!
9) Imagitarium Black Aquarium Sand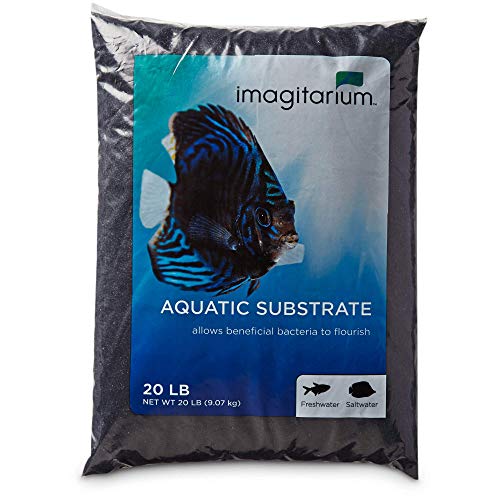 This black sand from Imagitarium is great for both saltwater and freshwater tanks and helps to provide a positive natural environment for your fish and plants. It promotes the growth of healthy bacteria which breaks down waste and reduces the amount of unhealthy debris in the water. The color of this sand allows you to ensure your fish to really stand out, too, and you can combine with colorful coral reefs for further aesthetic. Available in both a 5 lb bag and a 20 lb bag, this sand is great for tanks of all sizes.
10) CaribSea Arag-Alive Special Grade Reef Sand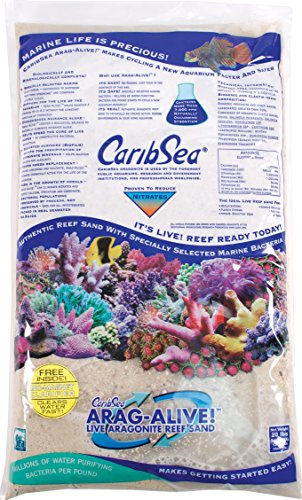 Another sand from CaribSea, this live sand is an aragonite substrate for all types of marine aquariums. Containing millions of beneficial marine bacteria to enhance biological filtration, this sand is very beneficial to the growth and wellbeing of your fish and plants. It is also completely safe and helps maintain a proper pH for the life of your aquarium without the constant addition of chemicals. This bimini pink sand has a larger grain size that the Fiji pink sand we recommend above, making it great for certain fish and plants.
Aquarium Sand FAQ's
Can I mix types of sand?
The simple answer is yes! Having a tank with just live sand would be very beneficial to your fish and plants, but would get very expensive over time. Therefore, experts often recommend that you mix live sand with another type of dry sand.
How much sand should I put at the bottom of the fish tank?
It is recommended that you put around 2 to 2.5 inches of sand at the bottom of the tank.
Are there disadvantages to sand substrate?
There are a few instances where sand or certain sands might not be the best option for your fish. As we have mentioned above, some sand isn't good for certain fish because it can harm them if they ingest it. These fish include goldfish and bettas. Other fish on the other hand, like cichlids, can actually benefit from eating a little sand.
Sand that is very cheap and hasn't been treated properly may cause brown algae. Cheap sand can also raise the pH of the water which can be dangerous. If you notice that your sand floats, the sand may be causing an issue with your filter and you may need to switch to a different sand.
How often should I clean my aquarium tank?
Depending on how many fish you have, and how messy they are, most tanks require cleaning about once every two weeks.
Summary
Sand has many different benefits and is an excellent choice of substrate for many fish tanks. Sand can help to keep the tank cleaner than gravel can, while also providing a more natural feel for your fish and plants so they can live a long and happy life. With different types of fish tank sand out there to choose from you will be sure to find one that suits your fish, although always double check they wouldn't be better suited to a gravel substrate.