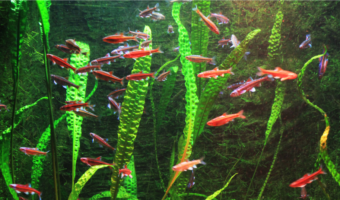 If you're a new fish owner, you've probably spent time picking out the right tank, the right substrate, the best thermometer and might have even picked out some cool decorations to really make your aquarium stand out. But what about fish plants?
Contrary to popular belief, plants can actually have multiple benefits when placed in a fish tank and can do a lot more than just make the tank look pretty! So, while they are not absolutely necessary for the wellbeing of your fish, you may want to think about purchasing some of the best aquarium plants too.
However, there are so many types of plants out there — different heights, colors, species and types — that it can be difficult to know which ones are going to be right for your aquarium. Fortunately, we have complied a buying guide laying out everything there is to know about the best aquarium plants, including their benefits and the type you should be looking for. Even better, we've included some of our top picks on the market today, too. Keep reading on to find out more!
Do I Need Plants In My Fish Tank?
Truth be told, you don't actually need plants in your fish tank. Your fish can live happily in their tank without the  best aquarium plants. However, there are many benefits that plants offer to a fish habitat and this is the reason so many owners choose to keep a planted aquarium.
There are two main different types of fish tank plants — live and artificial. Both have their benefits and we will go into more detail about that below so you can decide which type is going to be best for your tank.
However, it is important to know that, whatever type of plant you pick, they help to mimic a natural habitat for your fish. They can also be useful for your fish to brush up against or hide within, just like they would do in the wild, and they also make your tank look great! With the best aquarium plants and other fish tank decorations, you have the freedom to decorate your aquarium however you wish, making sure your fish really feel at home!
Live Plants vs. Artificial Plants
As we have mentioned above, there are two types of plants for fish tanks — live plants and artificial plants. Live plants are, of course, living plants! Artificial plants, on the other hand, are usually made of plastic or resin and simply serve as a visual aid to the tank.
It is up to you whether you decide to keep live or artificial plants in your fish tank. Both have their advantages and disadvantages and there is no right or wrong. Usually, fish owners keep a mixture of both live and artificial plants in their aquarium, so they get the benefits of both.
Live plants are particularly beneficial to a fishbowl because they add oxygen to the water and remove carbon dioxide/ammonia. They can also help to reduce algae growth, but they do take a lot of time to maintain and keep healthy.
Artificial plants, on the other hand, come readily set up and are available in many sizes and colors. They, of course, do not have the benefits of live plants, but are very easy to maintain.
Types Of Plants For Fish Tanks
The main two types of aquarium plants are live plants and artificial plants. While there is only one real type of artificial plants, live plants can be broken down into three further categories — foreground plants, mid-ground plants and background plants.
Foreground Plants
These are the plants you place at the front of your tank. They are generally shorter and grow fairly slowly. They can also be called carpet plants or carpeting plants, where they tend to spread outwards instead of upwards and cover the bottom of the tank in a carpet-like layer.
Mid-Ground Plants
These are taller than foreground plants and are usually used in the middle of the tank or on the sides. They can add a certain look to your tank, but don't take up too much swimming space for your fish.
Background Plants
These are the largest plants and are usually placed at the back of the tank. They create a nice and natural backdrop to your aquarium and your fish will like to hide in them.
Factors To Consider In The Best Aquarium Plants
There are a few things to take into consideration while you are choosing your best aquarium plants to make sure you get the right plants for your tank and fish.
Size
First of all, you need to take into consideration the size and height of the plants in relation to your tank size. Fish need a lot of space to swim around in and don't want to be stuck in a tank that is packed with too many plants. While you can have some tall plants in your aquarium, make sure you balance them out with smaller plants so your fish still has room to live.
Color
Aside from many of the other benefits aquarium plants offer, one of the main purposes of plants is to add aesthetic to your fishbowl. Some owners like a natural looking tank and will want to go with green plants, whereas others will want a brighter colored tank and may go for artificial plants in neon colors! It is completely up to you when it comes to decorating your tank.
Manageability
Looking after fish can be more time consuming than you think, especially when it comes to cleaning their tank. Therefore, you don't want plants that are going to take a lot of time to look after and maintain. Artificial plants have the benefit that they do not require any management once they are in the tank, whereas live plants will need to be looked after and checked every now and again. This is something to take into consideration.
Substrate
If you are purchasing artificial plants, then the type of substrate you have at the bottom of your tank will not matter. However, if you are keeping live plants, you will need to think about whether your aquarium substrate and plants are compatible.
Live plants require substrate to root at the bottom of the tank. They also absorb nutrients from the substrate to stay healthy, too. There are different types of substrate, including sand and gravel substrate, and all have their different benefits to plants.
Lighting
Live plants require the right lighting to live properly. Light is a key source of energy for your aquarium plants as it allows them to complete the process of photosynthesis through which they convert carbon dioxide into energy. They will need 8 hours of full-spectrum light per day. Some plants will require high light, while other will require low light. This is something to remember if you are choosing live plants instead of artificial plants in your planted tank.
The Best Aquarium Plants — Reviewed
1) QUMY Large Aquarium Plant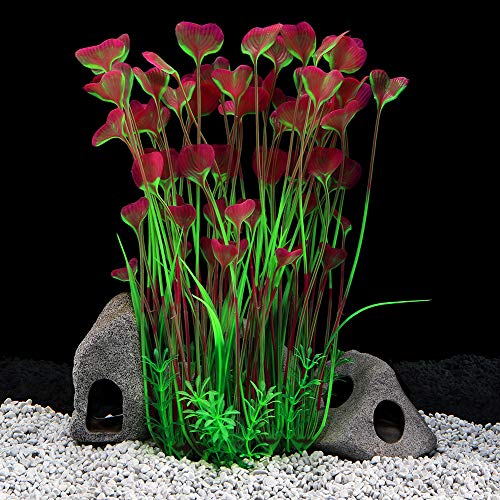 This artificial plant from QUMY provides both a natural feel to your fish tank while also adding a splash of color. Measuring 15.7 inches high, this large plant is great for bigger tanks and replicates the environment your fish would live in in the wild. Made of non-toxic plastic, this decoration will not hurt your fish and, because it isn't live, it is a lot easier to take care of! With a ceramic base, this plant stays at the bottom of the tank and provides a beautiful decoration that livens up any aquarium. It is also available in three other colors.
2) Planterest Live Alternanthera Bundle
In this bundle from Planterest you will receive Alternanthera Bettzickiana. This plant will stand between 2 and 10 inches tall and is of medium size, perfect as a mid-ground plant. These plants add a splash of color to your tank while still keeping a natural theme that will make your fish feel at home. They root easily into substrate and do not require a lot of maintenance to keep them healthy. Even better, Planterest offer a 7 day money back guarantee if your plant dies within the first week.
3) Marineland 3 Feet Bamboo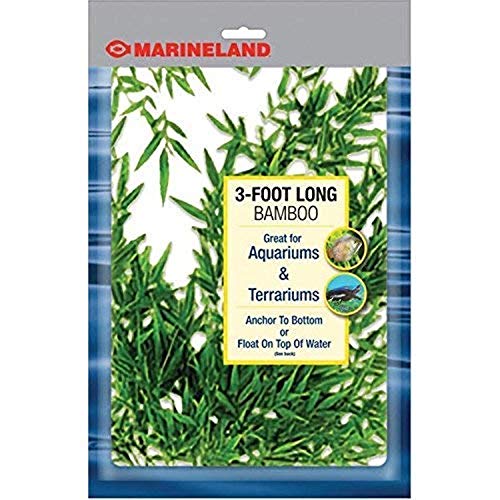 This bamboo plant from Marineland is an artificial plant that really does look real! 3 feet in length, this soft plastic plant is completely safe and adds to the overall look of your tank. Because it is so long, it can give your fish a place to hide and make them feel like they are in their natural habitat, as well as reducing their stress and keeping them happier. You can anchor the bamboo to the bottom by burying it in the gravel, or remove the base if you prefer to let it float freely along the top. With low maintenance needs, this plant is very easy to take care of and provides an aesthetically pleasing addition to any tank.
4) Zafina Aquarium Plant Seeds
These seeds from Zafina allow you to grow a carpet of small grass along the bottom of your aquarium. Easy to plant, these seeds work when sprinkled over soil, sand and tiny gravel and will begin to grown between 5 to 7 days, with completion of the carpet after 15 days! They do not need CO2 or strong light to grow and just require the water temperature of the fish tank to be around 28 degrees.
Growing over the bottom of the aquarium, these plants look visually stunning when grown and create a real natural habitat for your fish. There are three pouches of seeds in this pack, great if you have more than one tank or if you have a particularly large tank to cover.
5) CNZ Aquarium Decor Fish Tank Decoration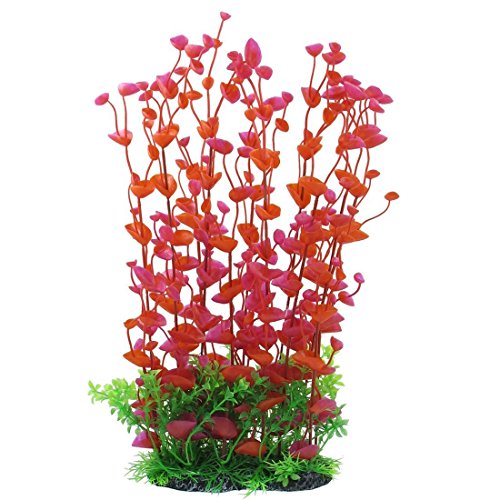 This artificial plastic plant from CNZ measures 16 inches tall and is great for larger tanks. Bright red and green in color, this plant adds color to your tank while also retaining a natural feel, perfect for those who want their tank to be more of a natural habitat but still want the aquarium to stand out! The plant part of the decoration is made of non-toxic plastic and will not harm your fish and the bottom is made of ceramic. Therefore, this decoration is very durable and stays at the bottom of your tank securely. It is easier to take care of than a live plant and is also available in other colors.
6) Lantian Plastic Grass Cluster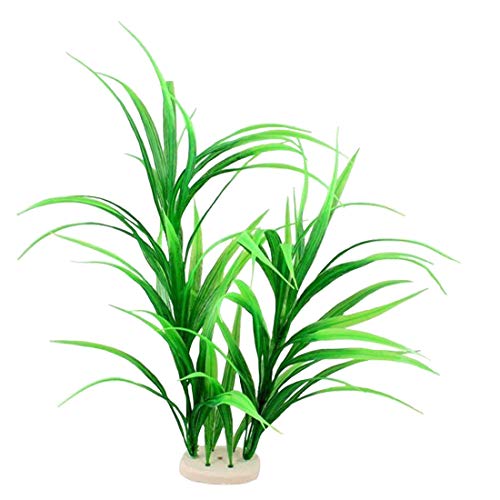 This extra tall plastic grass cluster from Lantian measures 17 inches in height and is perfect for a larger tank or for placing in the back of the tank for your fish to hide in. This plant is soft and the leaves sway as the water moves around it, making it completely safe for your fish to hide between without being hurt. Made of plastic, it doesn't need any maintenance and will last a long time, too.
This plant has a heavy and sturdy base and so it stays put at the bottom of the tank. Even better, the bright green color really pops in the aquarium, yet is natural enough to replicate a natural habitat also.
7) Aquatic Arts Store 6 Marimo Moss Ball Variety Pack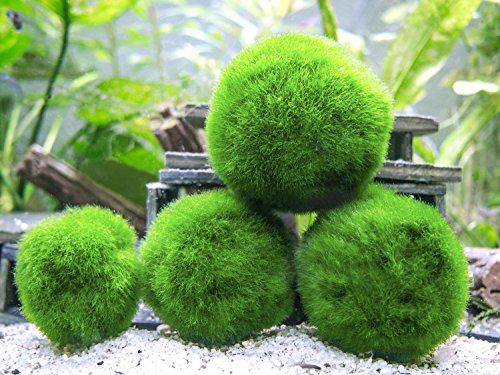 In this pack from Aquatic Arts Store you receive six marimo moss balls, in four different sizes. A live plant, they provide all the benefits that live plants do, except they are much easier to take care of than other plants! Easy to grow, these balls can live up to 200 years and so are certainly durable and hardy. They grow by absorbing nitrates, phosphates and other organic waste from the water to help purify the water and don't require any special lighting to grow. Their unique and interesting shape also adds as a great visual pleaser for a tank of any size!
8) BEGONDIS 14 Pcs Artificial Seaweed Water Plants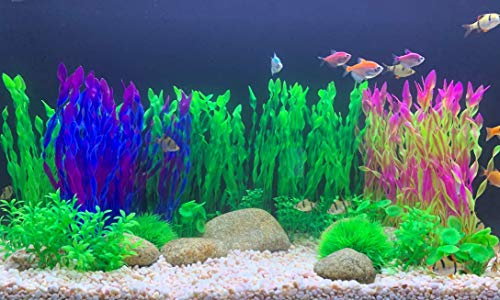 These artificial seaweed plants from BEGONDIS offer a bright and natural looking plant for your aquarium. With fourteen small seaweed plants included, each measuring 11.8 inches in height, you can place them around your tank to provide your fish with places to hide but still plenty of room to swim around. The base is heavy and will keep the plants grounded and the vibrant color will not fade over time. They are also 100% safe for your fish and non-toxic. Even better, they come in other, more vibrant colors for an even more out-there tank!
9) CousDUoBe Artificial Aquatic Plants
Included in this pack from CousDUoBe are eleven different styles of artificial plant, measuring between 12 to 16 inches in height. With some of the plants a more natural green color and other neon reds and purples, you truly can let your imagination run wild as you decorate your aquarium with these plants. They have a ceramic base that keeps the plants stable and the plastic plant is completely odorless and safe for your fish.
They are soft and flexible too, moving as the water moves around them for a more natural look and feel for your fish. They do not require any maintenance and are very easy to keep clean.
10) MyLifeUNIT Artificial Seaweed Water Plants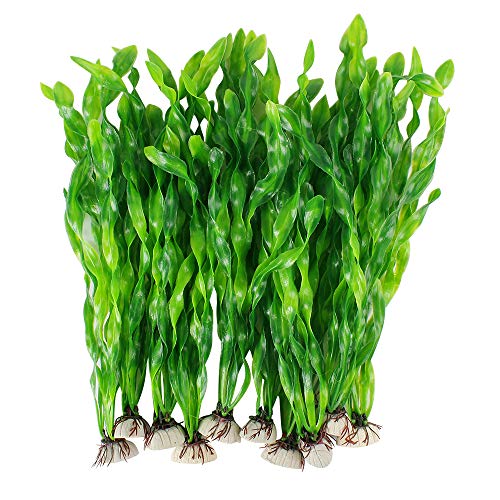 Another artificial seaweed bundle, this seaweed from MyLifeUNIT measure 12 inches in height. There are ten seaweed plants in this pack and they are made of non-toxic pvc material that won't disrupt the water or harm your fish. The base is made from ceramic and will keep the seaweed plants rooted at the bottom of the tank. The bright green color of this plant ensures your tank is eye-catching yet still looks natural.
The plants themselves are soft and completely safe for your fish to swim up against and hide in without hurting them. They also move with the water to make them look more real! These artificial seaweed pieces also come in other colors, including purple and red.
11) AquaLeaf Aquatics Store Java Fern Planted on Driftwood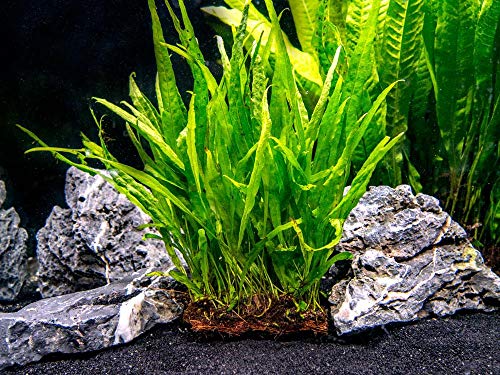 This java fern plant from AquaLeaf Aquatics Store comes planted on driftwood, making it super easy to install into your aquarium. Perfect for those who are unsure whether their fish tank substrate is gong to root plants properly, the driftwood provides all the nutrients the java fern plant needs to grow healthily. The plant is approximately 8 to 10 inches in height and is great as a center piece for your tank. The colors are bright and this is a great plant for giving a natural feel to the tank. It is also very hardy and will last a long time.
12) Aquarium Plants Discount Store 4 Potted Live Aquarium Plants Bundle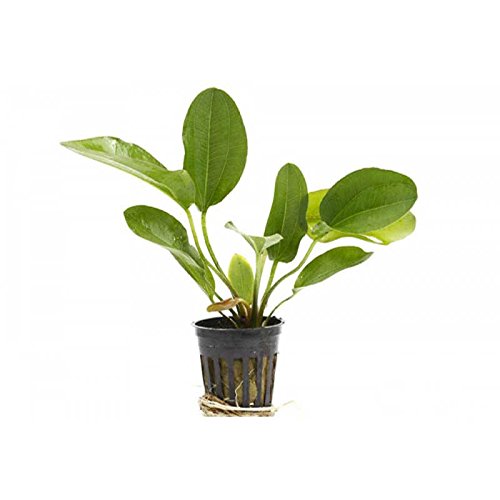 These four plants from Aquarium Plants Discount Store provide you with a range of aquatic plants to create a homely and natural space for your fish. Included are Anubia Barteri, Amazon Sword, Kleiner Sword and Narrow Leaf Sword, each offering places for your fish to hide and really feel at home. Perfect for any freshwater aquarium, these plants are easy to grow and easy to root and bring many benefits to the water. You will need to make sure you have adequate lighting to keep these plants alive and healthy, but they do not require a lot of maintenance once planted.
13) AquaLeaf Aquatics Store Florida 10 Species Live Aquarium Plants Bundle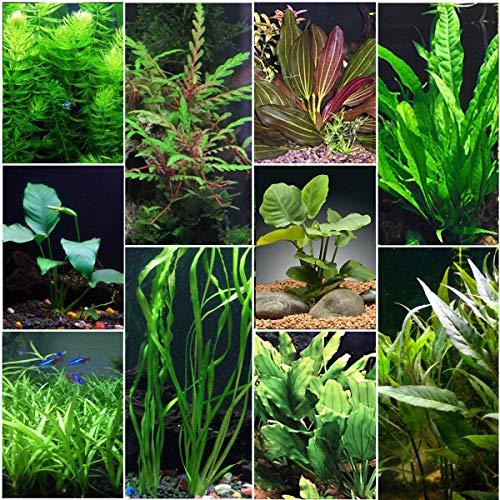 In this bundle from AquaLeaf Aquatics Store you will receive ten different live plant species, all perfect for a freshwater tank. The variety you are provided allows you to create a unique space and the different sizes of the plants, ranging from 6 to 12 inches tall, means you can place them around the tank without worrying about there being enough room for your fish to swim.
These plants will provide natural resting and hiding places for your smaller fish and invertebrates as well as providing other benefits such as absorbing nitrates from waste. The plant types include Anubias Barteri, Marble Queen, Hygrophila Pinnatifida, Altlandsberg Sword, Telanthera, Red Melon Sword, Lobelia Cardinalis, Hygrophila Araguaya, Java Fern and Vallisneria
14) BEGONDIS Artificial Aquarium Green Water Plants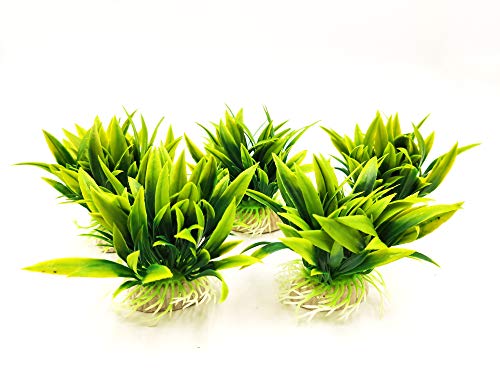 This artificial plant set from BEGONDIS includes 5 plants, with the largest measuring 3.54 inches. These small plants sit comfortably at the bottom of the tank and provide your fish areas to hide without compromising space. The smaller plants in this bundle can be used to decorate the floor of the aquarium like a carpet and add a natural feel to the tank, yet are still bright and eye-catching for a unique display.
They are made of eco-friendly and durable resin material and are safe for both freshwater and saltwater environments. Even better, they do not require any maintenance and the color will not fade over time.
15) The Sun Ave Bacopa Monnieri Moneywort Freshwater Live Aquarium Plant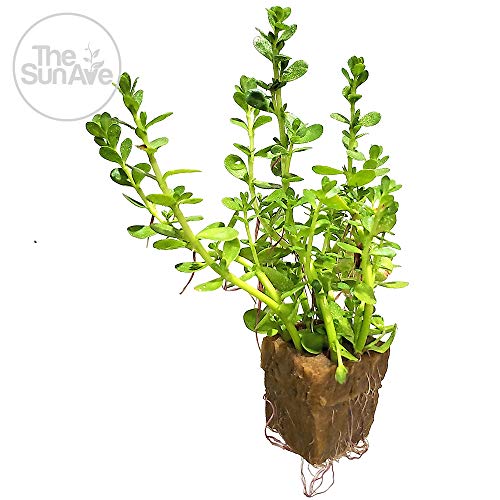 This Bacopa Monnieri live plant is an easy-to-care-for freshwater plant that usually measures over four inches in height. There are 7 to 8 stems per pack, providing a lot of green leaves for your fish to hide between and adding a pop of color to your tank. No special substrates or light is needed to grow this plant and it will grow fast in every condition, whether it is immersed, submersed or used as a floating plant. Easy to grow and plant, this Bacopa Monnieri from The Sun Ave is even recommended for beginners who are creating an aquarium for the first time.
Summary
Plants have many benefits for an aquarium and, if you're a fish owner, you might think about adding some to your tank. With both artificial and live plants available, your fish can enjoy a natural feel to their tank whether you have the time to take care of living plants or not. The best aquarium plants can offer your fish hiding places and add oxygen to the water, alongside making sure your tank is visually pleasing around your home, too. Whatever type of tank and fish you have, there is a plant for your aquarium out there!