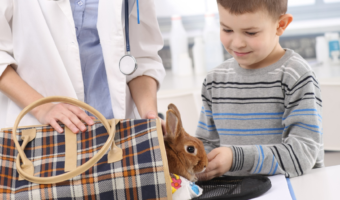 The best rabbit carriers can be a great accessory to have when it comes to making sure your furry friend is comfortable. Whether you're going on vacation or just taking your bunny to the vet, you'll need a way to transport them there safely and securely, while also ensuring they are relaxed. Fortunately, a rabbit carrier does just that and with so many great carriers out there on the market today, you'll be sure to find the one you need.
However, if you're new to the world of pet rabbits, which one should you go for? What should you be looking for? Does your rabbit really need a carrier? Fortunately for you, we have compiled a guide all about rabbit carriers so you can make an informed decision when it comes to buying, and have even included some of our top picks that are available to you. Keep reading on to find out more.
Does My Rabbit Need A Carrier?
Even if you're not regularly taking your rabbit here, there and everywhere, having the best rabbit carrier to hand is always a good idea. A carrier can be very useful when you need to transport your bunny somewhere, whether that be abroad on vacation, or even just on a quick drive to the vets.
A rabbit can't be left free to roam in the car or on a plane or in any other mode of transport you may need to take them in, because it can be dangerous for them. A carrier will keep them safe and secure, give them the right amount of ventilation and keep them comfortable, no matter where you are going.
Another reason you may want to invest in a carrier is the fact that rabbits can be frightened easily. If your rabbit is on a plane or train with hundreds of new people, they are going to feel much safer and relaxed if they are confined to their own space where they know no one can get to them.
Features To Look For In A Rabbit Carrier
There are a few things you should be looking for in the best rabbit carrier to make sure you are making the right purchase for your bunny.
Size
The most important thing to consider when looking for a rabbit carrier is the size. Rabbits tend to feel safer in smaller spaces and so a more compact carrier can be good for your bunny. However, you want them to be comfortable and to be able to move around in their carrier, so ensure it isn't too small.
Durability
Rabbits don't always like to be put in their carriers and can try to scratch and bite their way out. Therefore, you'll need to look for something durable. A lot of a carrier's durability comes from the material it is made out of — the most common materials are plastic and metal. Both of these are sturdy and chew-proof.
Portability
The whole point of a carrier is to be able to safely and comfortably move your rabbit from one place to another, so make sure the carrier is portable. Some come with extra straps and handles to make the carrier even easier to use. You also don't want the carrier to weigh too much, especially before you have even put your rabbit inside it!
Ventilation
This goes without saying, but your rabbit carrier needs to be well-ventilated! This is especially important if your rabbit is going to spend long periods of time in their carrier, such as on a plane. you want to ensure they have enough air and feel comfortable.
Comfort
As we have mentioned above, a rabbit carrier isn't always your rabbit's favorite place to be and so you want to make sure they are comfortable while inside. Make sure the carrier is smooth and there are no sharp wires or nails that could harm them. Also make sure the airflow is good so they don't become too hot (or too cold!).
Access
Most carriers have a door at the front so you can get your rabbit in and out. These carriers work, but sometimes bunnies can become scared and won't want to come out at the vets! Therefore, a carrier with access through the top, such as carriers with a lid, will allow you to access them easily and scoop them out without having to reach in at an awkward angle.
Ease Of Cleaning
It is no secret that rabbit's can make a mess, so you'll want a carrier that is easily cleanable. This will ensure that your bunny stays sanitary too, so they aren't standing in their own poop and pee!
If you're ready to find the best rabbit carrier for your rabbit, take a look at the ones we recommend below. These are all available to you on Amazon.
The Best Rabbit Carrier — Reviews
1) Petsfit 16 x 9 x 9 Inches Pet Carrier
This rabbit carrier from Petsfit measures 16 x 9 x 9 inches and is perfect for any rabbit 7 lbs or less. Made from of high quality PU and EVA, this carrier not only folds down flat for say storage but also holds it's shape well.
With hexagonal mesh holes in the side of the carrier and both entry points made of mesh, your rabbit will have ample ventilation, too and getting them in and out of the carrier is easy. The carrier is very durable and comes with a removable and machine washable pad inside so you can keep it clean and sanitary. Even better, this carrier has a shoulder strap so you can easily carry it around, too.
2) GOMMLE Pet Travel Carrier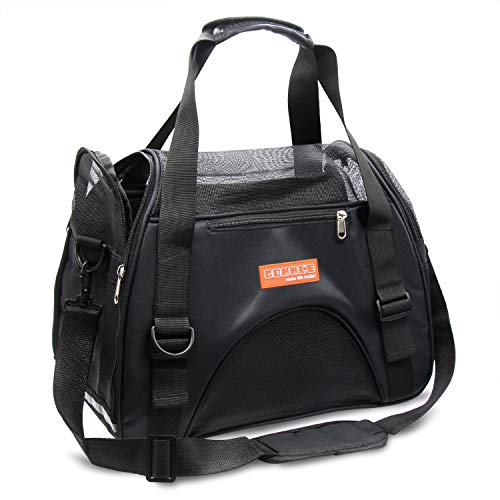 Measuring 17.3" L x 7.8" W x 11.8" H, this rabbit carrier from GOMMLE is great for any bunny up to 8 lbs in weight. Very portable and easy to fold, this lightweight carrier weighs only 1.32 lbs and is airline approved. With two handles and a shoulder strap, the carrier is made of premium 600D oxford material, making it soft and comfortable for your pet as well as waterproof.
The mesh on all four sides provides excellent ventilation so your rabbit feels relaxed and calm throughout their trip. The two zippered mesh sides mean it is easy to access your pet and there is also a multifunctional size zipper pocket for carrying treats or rabbit toys that your rabbit may want on their journey. Lastly, the D-rings on both sides allow the carrier to be restrained by a pet seat belt and there are bottom reflective strip that add visibility and ensures nighttime safety.
3) MidWest Homes for Pets Spree Travel Pet Carrier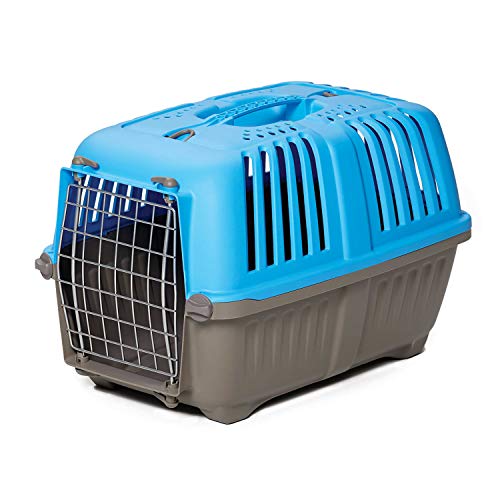 This rabbit carrier from MidWest Homes is a hard sided carrier and measures 17.91" L x 11.5" W x 12" H. Made of durable, easy-to-clean plastic, this carrier offers ventilation on all sides and great visibility of your pet, making them more comfortable on any journey. As this carrier is made of plastic it is very durable and the wire door is completely chew-proof so your bun will not be able to escape!
It is easy to assemble in four quick steps and just as easy to dissemble for packing away when not being used. The front door gives you easy access to your pet, but if they are particularly stubborn then the top of this carrier can also be removed so you can reach in and get them out. This carrier comes in three bright colors and is also available in a bigger size.
4) MuchL Animal Carrier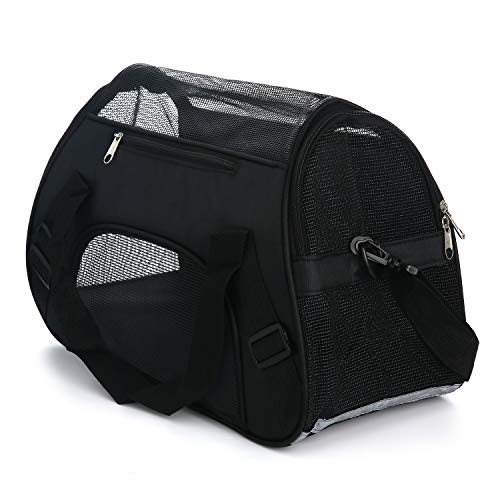 Made from lightweight polyamide materials, this carrier from MuchL measures 16.92" L x 8.26" W x 11.81" H and is great for any rabbit under 8 lbs. With mesh on all four sides, this carrier has great ventilation for your bunny and is completely waterproof. It is also very durable, despite the fact that it can be packed down when not being used!
Compliant with most airlines, this carrier has two entry points — one half opens so you can reach your pet, while the other opens completely so you can easily get them out. There is a removable base insert that not only creates a solid surface for your bun to stand on but can be easily washed too, and there are also a side pockets for extra storage. Reflective strips at the bottom help with visibility and safety, too.
5) EliteField Soft Sided Pet Carrier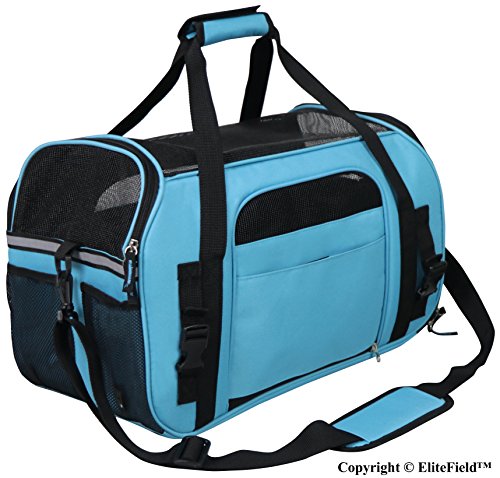 This bunny carrier from EliteField comes in both a medium and a large size. Airline approved, this carrier from durable, lightweight, waterproof material that is easy to clean and easy to transport. The top and sides have mesh netting for extra breathability and visibility and there are two pockets for accessory storage as well as a shoulder strap for portability. With two openings on either side, it is also easy for you to access your rabbit.
There is a removable fleece bed cover that can easily be washed and an insertable hard support board that helps to keep the carrier in good shape and makes your pet feel more comfortable. There is also a built in leash and buckle belt loops that help secure your bunny and carrier in the car or on a plane.
6) AmazonBasics Two-Door Top-Load Hard-Sided Pet Travel Carrier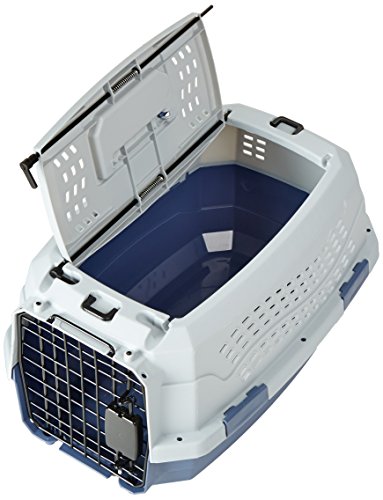 Another hard sided carrier, this rabbit carrier from AmazonBasics is great for animals up to 12 lbs in weight, and so will fit almost any rabbit breed. With plenty of ventilation on the sides and front, this plastic carrier is durable and will last you a long time. With a steel-wire door at the front, your rabbit will not be able to chew through the carrier and the top opening gives you easy access to your pet, even if they don't want to come out of the carrier!
Being made of plastic, this carrier is easy to clean and keep sanitary. There are a few handy features included with this carrier — the top door can be opened to the left or right and the door on the front of the kennel features a spring-loaded latch. All of these contribute to a sturdy and practical carrier.
7) FRIEQ 23 Inch Large Hard Cover Pet Carrier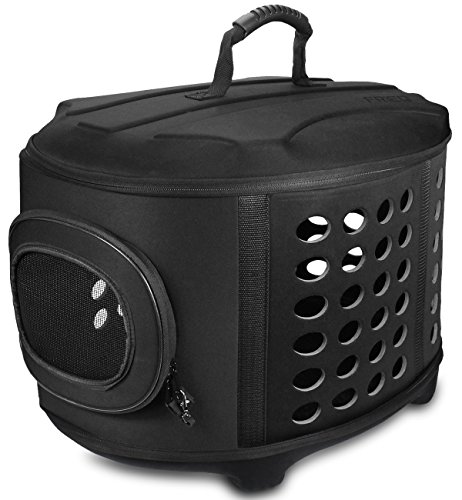 Great for even the largest of rabbits, this carrier from FRIEQ can take any animal up to 26 lbs! With a waterproof top and bottom this carrier is practical, yet has a soft midsection that not only provides comfort for your rabbit but also means the carrier can be folded down when not being used.
Inside, there is a soft padded cushion that keeps them comfortable but also offers shock reduction on long trips, and there are multiple ventilation holes, too. There is a door at the front made of mesh, as well as a top door that can be used to easily access you rabbit. The soft-grip handle makes this travel cage easier to transport and there is an exterior side pocket for extra room, too.
8) Petall Foldable Travel Kennel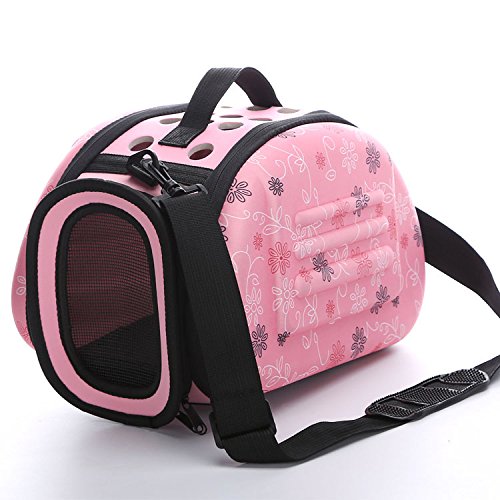 This small animal carrier from Petall comes in two sizes — small and medium — and three different colors. Made from EVA, this carrier is not only soft and comfortable for your rabbit but it is also sturdy and strong, holding it's shape and keep your rabbit safe. With a lightweight design it can easily be transported but also folds down flat for easy storage. The bottom of the carrier helps to keep the cage firm and is easy to clean and keep sanitary, too.
The anti-tear mesh door will keep your rabbit secure even if they love to chew and offers excellent ventilation, too. There is also a door at the top of the carrier for easy access to your rabbit, great if they are often stubborn about getting out of their carrier! This carrier comes with both handles and a shoulder strap, great for portability.
9) Kaytee Me Travel Carrier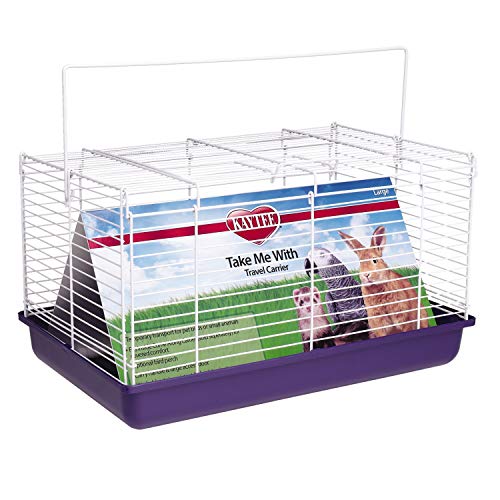 This Kaytee carrier is great for short trips. While it doesn't have the protection some of the other carriers on this list offer, it offers a secure and large space for your rabbit when they need to be transported. Made of wire and plastic, this rabbit carrier is durable and sturdy and will last you a long time. It is also easy to clean, thanks to the plastic base, ensuring it is sanitary for your bun.
There is a carry handle for easy portability and a large access door so you can get to your rabbit when needed. Thanks to the wires, you can attach a water bottle for your rabbit too, to keep them more comfortable. This carrier comes in three sizes — small, medium and large. It is also great for other small pets such as hamsters, guinea pigs and birds.
10) Ubest Pet Carrier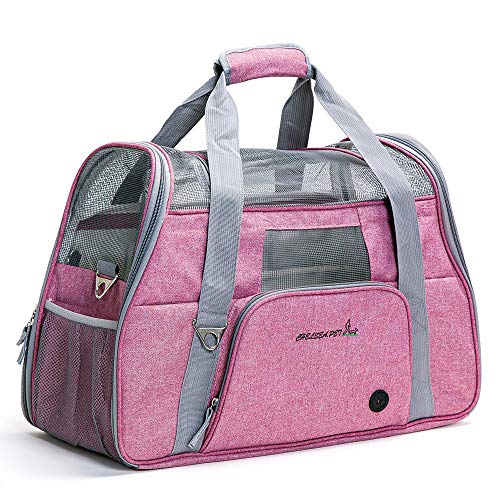 This rabbit carrier from Ubest measures 20" L × 8.6" W × 13.3" H and fits any small animal up to 8 lbs. Great if you have a rabbit that is on the larger side, this carrier gives them plenty of room without taking up too much space and can even be easily folded for storage when not being used.
With a safety belt hole, this whole carrier can be restrained when in the car or on a plane to make sure your bun is extra safe and the mesh panels provide excellent ventilation while also letting your pet see where they are. The carrying handles and shoulder strap can be adjusted to the right height and the bed inside can be removed for washing so the carrier stays clean. What's more, this carrier comes in a range of colors for you to choose from!
Summary
A rabbit carrier has many great uses and is the best way to ensure your rabbit can be moved safely from one place to another. While there are certain things you should be looking for such as size, ease of cleaning, ventilation and durability in the best rabbit carrier, as long as your bun is comfortable and feels safe and secure, then the carrier will work. With so many great options for carriers out there, we know you'll find one that you'll love in our list above. Which carrier do you think you'll be getting?