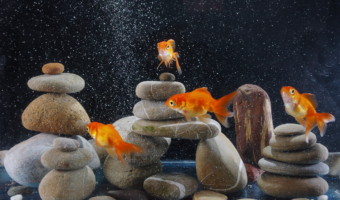 If you're setting up your fish tank for the first time, you might want to think about adding some rocks to your aquarium. While you may think that rocks purely serve as a visual aid in your tank, they actually have a lot of benefits to your fish and other things living in your tank!
The type of rocks you should use depends on whether you have a freshwater tank or a saltwater tank and, with so many different types of rocks out there, it can seem a bit daunting trying to choose the right one for your tank.
Fortunately, we have complied a buying guide that gives you everything you need to know about choosing the best aquarium rocks. We'll discuss whether you really need rocks, the types of aquarium rocks, what to look for when buying and have even included some of our top picks out there on the market today. So, if you're ready to find the right rock for your fish tank, keep reading on below.
Do I Need Rocks In My Aquarium?
Rocks have many benefits when placed in a fish tank and most owners choose to use them alongside substrate and other aquarium decorations and plants to create a habitat for their fish. One of the main reasons rocks are so beneficial is because they serve as bacteria colonies that can help your pet fish thrive and become healthy. They also mimic a natural environment for your fish, keeping them stress-free and happy.
The best aquarium rock can add to the beauty of a tank, too. With so many different types of rocks out there, you are free to decorate your tank however you wish and make your aquarium a real eye-catching piece in your home. Not only adding an aesthetic look to your tank, many rocks have holes and hiding spaces for your fish. This again adds to the natural feel of the aquarium and will make your fish feel safe.
Types Of Aquarium Rocks
There are two main types of rocks available for an aquarium — freshwater and saltwater rocks. The type of rock you need to buy will depend on whether you have a saltwater or freshwater tank, as both have different requirements.
Freshwater Aquarium Rocks
Freshwater tanks are easier to maintain than saltwater tanks and you have a lot more freedom with the type of rocks you use. Freshwater rocks can serve as good colonies for bacteria and provide your fish with food sources. They can also add to the overall aesthetic of a tank and provide excellent hiding and resting places for fish.
Saltwater Aquarium Rocks
Marine and saltwater aquariums need a lot more maintenance than freshwater tanks and therefore choosing the right rock is very important. Saltwater rocks can serve as the main filtration process in the aquarium and can also contain a host of beneficial bacteria, which can serve as food to the fish.
Of course, in both types of tanks you can also use artificial rocks. These rocks serve only really as a visual aid to a fish tank and do not have the same benefits when it comes to bacteria as live rocks do. However, artificial rocks are very easy to place in the tank, don't require maintenance at all and can still provide hiding spaces and a natural home for your fish.
Things To Consider When Buying The Best Aquarium Rock
There are a few things you should take into consideration before you purchase the best aquarium rock to make sure you get the right kind for your tank.
Size
First and foremost, you'll need to consider the size of the rocks in relation to your tank. Normally, rocks come in packs of different sizes and so you can place them around your tank, adding character and places for your small and large fish to hide and rest.
The main thing to remember is to not to overfill your tank with rocks and aquarium decor. Your fish need a lot of space to swim around, and won't like being cramped in with lots of rocks and plants.
Color
The color of the rocks you choose will ultimately help how your tank looks when it is completely decorated. If you want a natural looking tank, you can go for natural colored artificial rocks or live rocks. If you want something a little more out there that grabs your attention, you could go for neon colored rocks!
You should also avoid live rocks that have black algae or a slimy texture, as this can indicate dead organisms that can contaminate the tank.
Hiding Spots
One of the main benefits of rocks is the hiding spots they give your aquarium fish. These hiding spots can also serve as resting spots, which some fish, such as cichlids, will really appreciate. Aquarium plants are also useful for providing hiding spots.
Treated/Non-Toxic
You want to make sure that the rocks you choose are treated and completely non-toxic so they don't contaminate the water and harm your fish. You should always be wary of rocks that smell funny and always check the materials before you buy.
Budget
Some rocks can be expensive, while others can be fairly cheap. This is just something to keep in mind before buying, otherwise you could end up spending more than you wanted to! The best aquarium rock for you in not necessarily the most expensive!
The Best Aquarium Rock Reviews
1) Small World Slate & Stone Store Large Natural Slate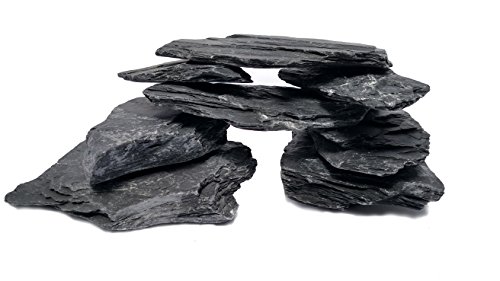 These slate rocks from Small World Slate & Stone Store are 100% real slate sourced in the USA. Perfect for any type of aquarium, the slate is pH neutral and will not affect the water, making them 100% safe for your fish. These large slate pieces measure 5 to 7 inches long each and provide a wonderful decoration to many different tanks. The gray color is perfect for a natural looking habitat and will certainly make your fish feel at home. They can also be stacked and glued to form fish caves/caverns or benches/seats and broken to create different sizes.
2) Pisces Seiryu Rock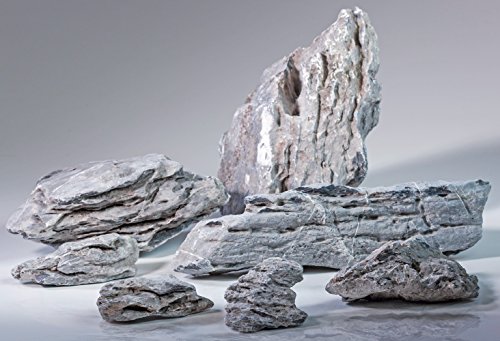 This Seiryu rock, also known as Azure Dragon, from Pisces is great for any freshwater tank. In the pack you get approximately seven pieces of rock, all in different shapes and sizes. The unique shapes allow you to create a fun and interesting display in your tank and the natural stone color of this rock allows for a natural looking tank that will make your fish feel at home. It is advised that you wash this rock before placing it in your tank, and you should also be aware that some buyers report this rock raising the pH of their tank.
3) Lifegard Aquatics Dragon Rock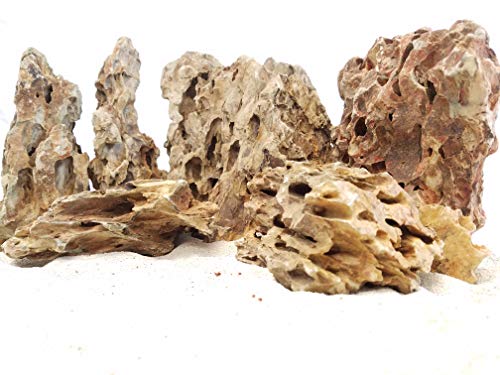 This Dragon rock from Lifegard Aquatics is a unique and interesting rock that certainly stands out in a tank. In this pack you will receive approximately two large pieces of rock and four smaller pieces of rock, perfect for arranging in any way you like and adding some character to your tank. The color is completely natural and adds to a natural looking habitat, too. Again, it is recommended that you wash this rock before adding it to your tank, especially to prevent the pH of your water from being raised.
4) ARC Reef Store Reef Stacker Dry Rock 10 lbs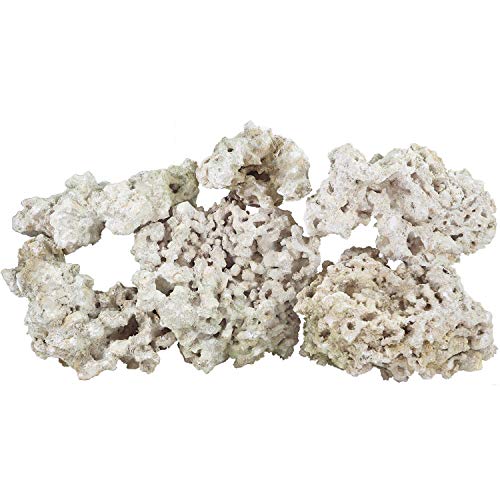 This 10 lb dry rock from ARC comes with many holes and is designed to easily stack together and so is great for aquascaping. Perfect for those fish who like having places to hide and rest or for fish who are bored and need some stimulation, you can create magnificent structures with this rock using the connecting rods and plugs that come included.
The rock itself has a natural white color, perfect for any natural habitat, and is extremely porous and light. Each rock is sterilized with high-pressure heat and throughly cleaned before it arrives to you, ensuring it is completely safe for your fish.
5) Carib Sea South Seas Base Rock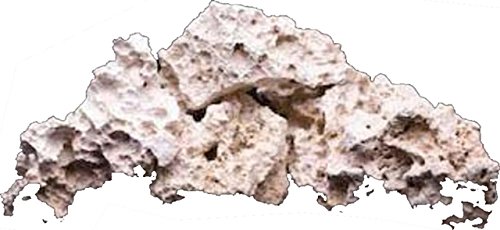 This South Seas Base rock from Carib Sea is great for marine, reef and cichlid tanks. The unique shape of this rock is formed by the erosion and pitting of limestone over the course of eons, providing a fun and interesting display to your tank that also gives your fish space to hide and rest. Completely clean and safe, you can be sure this rock will not harm your fish and it is designed to keep the pH level. The colors also help provide a natural looking environment for your fish and add to the aesthetic of your tank.
6) ARC Reef Store Reef Stacker Dry Rock 25 lbs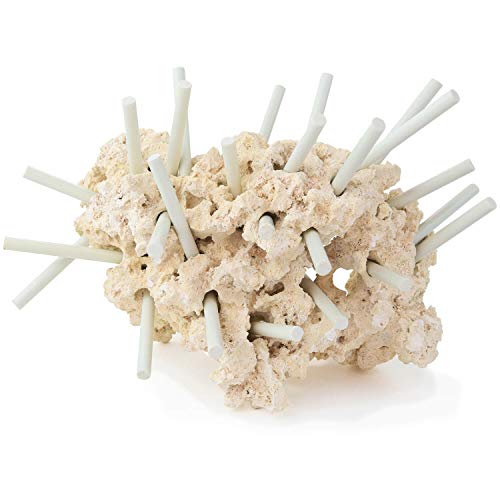 Another reef stacker rock from ARC, this rock is larger and allows you to create even larger structures to keep your fish happy and entertained. With 25 lbs worth of rock, you can connect the pieces together using the pre-drilled holes to create aquascapes that keeps your aquarium looking fantastic but also provides your fish with a satisfying place to live. They will be able to hide and rest in the structures you create.
Each piece of rock is steralized with high-pressure heat and then thoroughly cleaned, and so you know it is completely safe for your fish. The white color also stands out in a fish tank and will certainly make your aquarium a talking point!
7) Small World Slate & Stone Store Small Natural Slate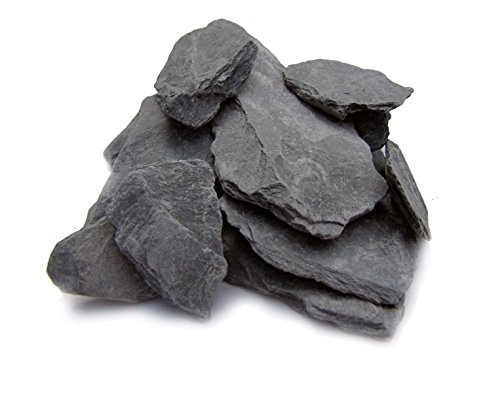 More slate from Small World Slate & Stone Store, this natural slate stone is 100% genuine and also sourced in the USA. These slate pieces are smaller, measuring 1 to 3 inches long and are therefore great for smaller tanks. They are still pH neutral which means they are great for any type of aquarium and will not harm your fish. The color of this genuine slate keeps the tank looking natural and provides an excellent decoration for your fish habitat. You can also glue these slate pieces together to create a centerpiece or archway in the tank.
8) Nature's Ocean Coral Base Rock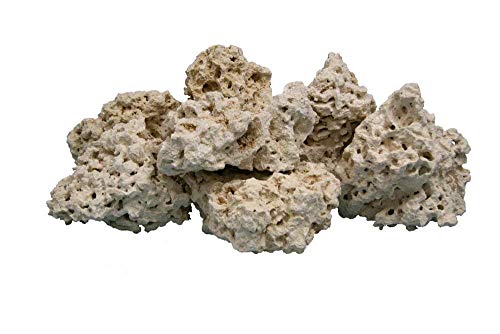 This coral base rock from Nature's Ocean is 100% natural aragonite rock, great for decorating aquariums, conserving natural reefs, coral farming, culturing rocks and growing live coral. The 20 lbs pack provides you with adequate rock to create a natural habitat for your fish and create structures for them to swim around and through and rest between.
The rock rapidly adapts to live environments and will not affect the cycling of your tank water so it's easy to set up. The porous surface helps grow denitrifying marine bacteria that help decrease nitrate levels, too. Perfect for both saltwater and freshwater aquariums, you don't need to soak this rock before using it.
9) Carib Sea Aquatics Life Rock Display Box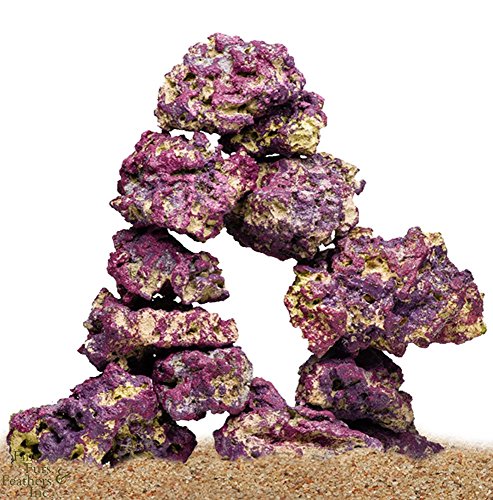 Another rock from Carib Sea, this rock display box is an aragonite based live rock substitute that is infused with live bacteria and made to look like the coralline laden live rock. It contains no cement or decaying material and therefore requires no curing prior to use and is safe for all fish. The arched shape design gives your fish areas to swim through and rest within, keeping them happy and stress-free.
The shape also means this rock is a great centerpiece for your tank and the colors are that of actual live rock, making it perfect for a natural looking tank with a splash of color. Even better, this small 20 lb rock fits into a number of aquarium sizes, too.
10) Aquarium Supplies Cichlid Stone Aquarium Rock Cave Decor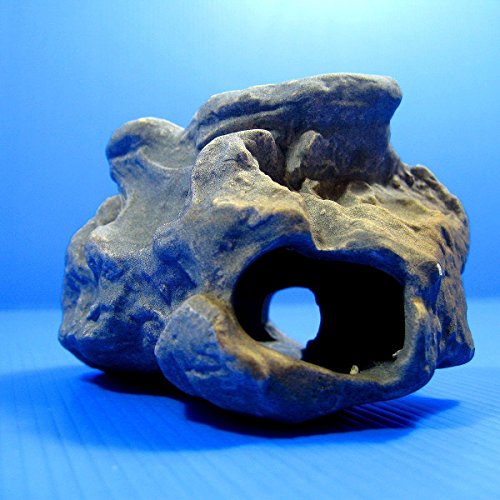 This artificial rock from Aquarium Supplies provides a natural like shelter for both freshwater and saltwater tanks. Made of 100% ceramic material, this rock decoration is completely safe for your fish and looks almost identical to a real rock — no one would know the difference! Measuring 4.6" tall, this rock provides a lightweight and natural looking alternative and adds an interesting piece to your tank. It is also perfect to be used as a breeding ground for fish and as a hideaway for bottom dwellers and does not require any maintenance.
11) Penn-Plax Reptology Shale Step Ledge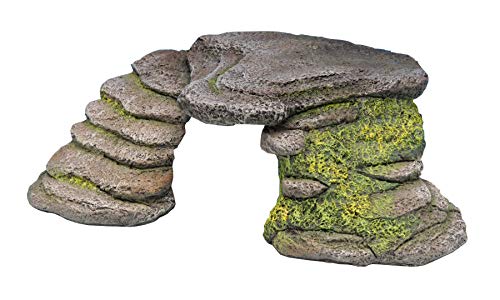 Another artificial rock, this step ledge from Penn-Plax is perfect for reptiles, small fish and other aquatic pets, providing them with a place to hide and swim through. Made of non-toxic poly-resin material, this artificial rock is completely safe to have in your tank and works in both saltwater and freshwater aquariums.
The design very closely mimics natural rocks and therefore it makes a great piece in any tank, without standing out too much and still keeping the habitat looking natural. This decorative rock is available in three different sizes based on the size of your tank and the size of your fish.
12) BCQLI Sphere Bio-Filter Media Red Volcanic Rock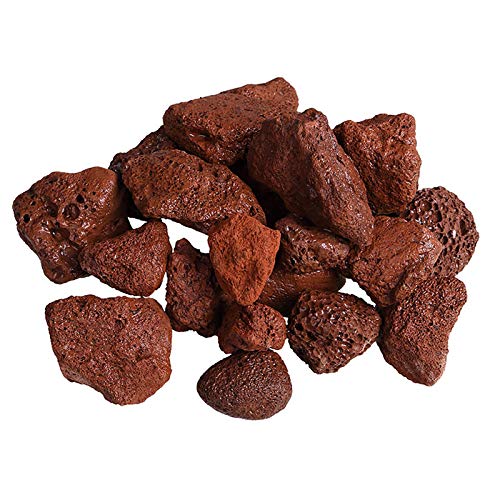 This natural and organic red volcanic rock from BCQLI has many benefits when placed in your fish tank. Not only does this rock look visually pleasing and really stands out while still keeping the aesthetic natural, it also helps to stabilize water quality, absorb harmful bacteria with it's porosity and promote metabolism within your fish. In this 400g bundle, you will receive different sized pieces of volcanic rock that can be placed around your tank for both visual effect and to ensure that your fish have enough room to move.
13) Aqualexs Aquarium Ohko Dragon Stone Rock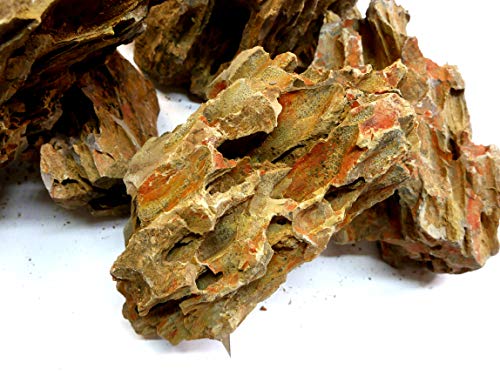 This 10 lbs Dragon Stone rock from Aqualexs comes in different sizes ranging from 2 to 7 inches and is perfect for placing around your tank to create an impressive display. Unique in shape, this rock offers your fish places to hide and rest and the variety of colors that this rock comes in can really make your tank stand out, while still looking like a natural habitat. 100% natural, this rock will not alter the pH of the water and therefore is suitable for any type of tank. This also makes it completely safe for your fish and you can be sure it will not harm them.
14) Lifegard Aquatics Smoky Mountain Stone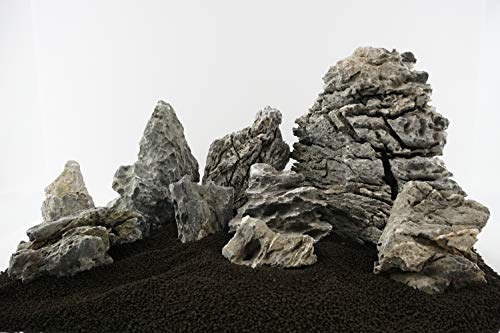 This Smoky Mountain Stone kit from Lifegard Aquatics allows you to create a magnificent arrangement of rocks in your aquarium. These all-natural rocks look like miniature rock formations and, with two medium sized rocks and three small rocks included, you can place them around your tank and create a natural environment for your fish, including areas for them to swim through and hide. Some fish owners have reported that these rocks altered the pH of their tank so this is something to watch out for, yet they are completely safe for your fish to be around.
Best Aquarium Rock FAQ's
Can I use rocks I find outside in my aquarium?
Generally, using rocks you find outside in your aquarium is advised against. This is because the rocks outside have not been treated and can therefore sometimes contain micorogranisms that could harm your fish. They can also contain calcium which can alter the pH of aquarium water. It is for this reason that you should buy rocks specially designed for aquariums.
Are there different types of rocks for saltwater and freshwater aquariums?
Saltwater and freshwater aquariums are different and therefore have different requirements. Just like some fish can't live in freshwater and saltwater and others can only live in freshwater, the same goes for rocks. The wrong type of rock in the wrong water can also affect the water, which can then harm your fish. You should always check the rocks you use are suitable for the type of aquarium you have.
Rocks for saltwater aquariums include Fiji Rock, Pukani Rock, Aquacultured Live Rock, Dry Rock and Tonga Branch Rock. Rocks for freshwater aquariums include Slate, Lava Rock, Petrified Wood, Mountain Stone and Quartzite.
Summary
As you can see, there are many different benefits to having rock in your aquarium. Not only can rocks make your tank look pretty and build an eye-catching display, they also provide beneficial bacteria for your fish, as well as providing hiding and resting places. They help to create a natural habitat for your fish too, mimicking how they would live in the wild. Whether you have a freshwater tank or a saltwater tank, there is a best aquarium rock out there for your fish.